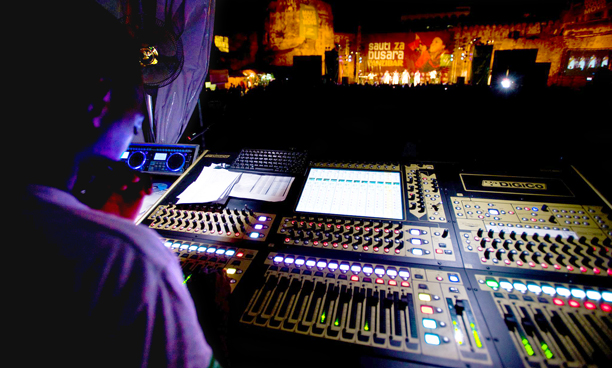 Calling itself 'the friendliest festival on the planet', Sauti za Busara is the highlight of Tanzania's music calendar, staged on the island of Zanzibar, with the main stage at the historic Old Fort in Stone Town.
The 2012 event took place over five days and showcased 400 musicians from across the continent.
With a DiGiCo SD8 console at front of house position, the four consecutive nights of non-stop, eight-hour live performance proved the effectiveness of using a digital console.
Purchased for last year's festival, the DiGiCo SD8 and MadiRack had been stored in a container for a year, but had coped very well with the tropical climate and monsoon rains.
'After been cleaned and tested at the end of last year's festival, the console and MadiRack were kept in their flightcases inside a large storage container, along with other PA equipment,' says FOH engineer, Gurjit Dhinsa. 'When we got them out for this year's festival, all the hardware was in a stable condition, the touch screen was fine and there were no issues with the MadiRack. The only issue we had was that the console's faders weren't sliding smoothly. But a chat with Robert Andrews from DiGiCo's technical support team determined it was simply down to the lack of use. Sure enough, after we ran through some diagnostic tests they stabilised and worked perfectly.'
Using a console that had the facilities to accommodate a wide variety of input sources, and quickly switch between them, meant that Dhinsa and visiting sound engineers were able to keep up with the festival's relentless schedule.
'On any given day, the festival may start with a Taarab orchestra and move on to a band consisting of drums, bass, guitars, keys, various acoustic instruments and vocals,' he says. 'After that there may be a percussion group, then a singer/guitarist and so on,' he says.
'The set-ups vary anywhere from eight up to 40 channels. The SD8 was the festival's only FoH board, so it had to deal with changeovers between all the performances while, [at the same time], the MCs' microphones, CD playback, local record and audio feeds for video cameras and external spaces were kept running.'
To ensure that changeovers were as fast and reliable as possible, Gurjit and his team created snapshots for various ensemble types at the start of the festival and used them as a basis for quick input assignment as the event progressed. Certain inputs, outputs, master/matrix parameters and sends also needed to be recall-safe, so as not to be affected by snapshot changes from act to act.
'We kept labelling to a minimum and were able to create an individual mix quickly,' Dhinsa adds. 'We could recall a snapshot for the next artist with all the input, dynamics, EQ and effects parameters intact from the sound check while the MCs introduced them. This was truly appreciated by incoming engineers, who found it quick and easy to familiarise themselves with the console and use their own external effects and dynamics with the console's local inputs and outputs if they chose.
'Without the SD8's snapshot and recall ability we would have been running well behind the festival's tight schedule everyday. It played a major role in making the event such a success.'
More: www.digico.org