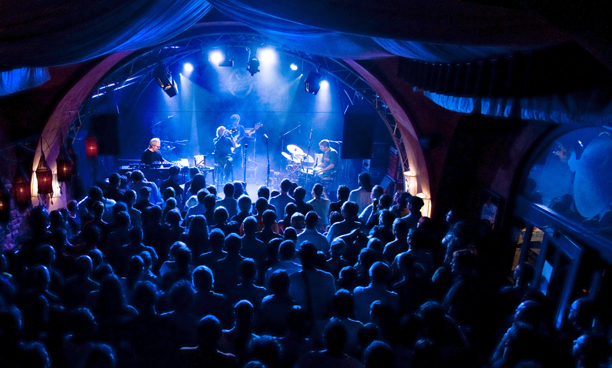 Don't be fooled – the Jazz Tibet Club has more in its line-up of live music than col vibes and frenetic solos. 'We focus on non-commercial music and the range of artists and musical styles we present is extremely eclectic,' confirms Jazz Tibet Club Program Director, Vladimir Foret.
With this in mind, the venue resident sound engineer, Peter Švarc, recently upgraded the club's facilities with the installation of a Soundcraft Si Compact 32 digital audio console.
Located in an historic 15th century building in the city of Olomouc in the Czech Republic, the Jazz Tibet Club has an intimate atmosphere that encourages close contact between the musicians and the audience.
'The club was founded in 1994 by jazz fans and, through the years, we have diversified to become a unique and prestigious venue in the region,' Foret explains. 'We've hosted artists including Glen Hansard and Marketa Irglová, Erik Truffaz, Victor Bailey, Darryl Jones, Maria Doyle Kennedy, David Kitt, Mark Geary, Astronautalis, Black Cracker and Grand Pianoramax, Shearwater, Taylor McFerrin, Liam Ó Maonlaí, Duke Special and many others.'
'We look for performers that have sincerity and energy,' he continues. 'However, it was becoming apparent that our old digital console, a Yamaha 01V – which did us a great service through the years – was limiting the ability of the artists to express themselves at their best. The old console's 16 inputs – only 12 of them with mic preamps – and four auxes could no longer accommodate our needs.'
When the decision to upgrade was made, Foret explored the options and decided on the Si Compact 32. 'The greatest thing about the console is how it combines the best from both the analogue and the digital approach.' Foret says. 'While some digital consoles require you to go through layers of menus, everything is easily accessible on the Si Compact 32. Working on this console is extremely intuitive and comfortable.'
'Really, there is nothing about the Si Compact 32 that can limit us, or any sound engineer. The console has an amazing number of inputs and buses that are sufficient for any application I can imagine, and all the inputs and buses are equipped with high-quality dynamic processors and equalisation, which is an important "real-world" feature. I also like the fact that you get all this functionality in a really compact size that doesn't take up much space in the club and only one person needs to carry it.'
And with the desk's recent v2 software upgrade, Foret is getting the best from the console. 'We're running the latest software, which gives us features like the ability to copy-and -paste channels and buses and set up assignable fader layers, and its vast amount of built-in digital signal processing,' he says'.
There is nothing we could complain about – the Si Compact 32 is fast, reliable and user-friendly. We love it.'
More: www.jazzclub.olomouc.com
More: www.soundcraft.com