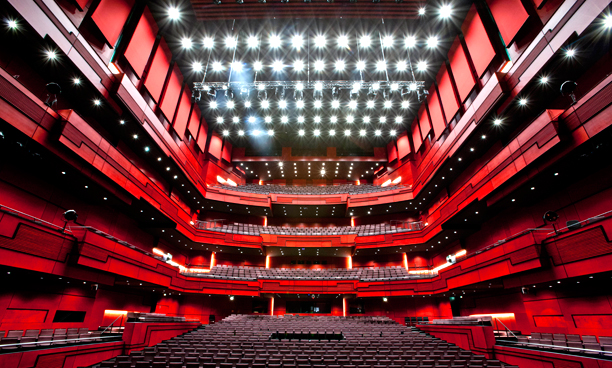 Targetting the business and arts international markets, architecture and cutting-edge A/V systems are long suits for Reykjavik's Harpa Concert Hall and Conference Centre.
Harpa's strongest card is the 1,800-seat Eldborg Hall, the new home of the Iceland Symphony Orchestra and the Icelandic Opera. Designed by Artec Consultants of New York, the hall has an elaborate adaptable acoustics, which adjusts hall reverberation using moveable soft goods, overhead canopies, and doors to hidden reverberation chambers. For amplified concerts, the hall uses on a similarly flexible Meyer Sound reinforcement system and boasts the world's largest installation of Midas digital mixing consoles – four networked Pro9 desks.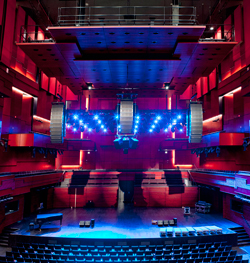 Based on an initial design from Artec's principal consultant, Geoff Zink, the final system configuration was plotted by Kari Eythorsson of Exton, the Reykjavik-based integrator contracted for all A/V, stage lighting, and communication systems.
The system's main left and right hangs each comprise ten Mica line array loudspeakers and five 600-HP subwoofers. The centre hang includes eight Mica loudspeakers flown from a single frame together with ten point-source loudspeakers (CQ-1, CQ-2 and UPA-1P) arrayed beside, below, and behind the for side fill, down fill and rear choir fill.
Four UPJunior VariO loudspeakers provide fill for the balcony, while 14 more provide front fill for standard or extended stage front, and two CQ-2 loudspeakers handle corner fill. System drive is from a Meyer Sound Galileo loudspeaker management system, using three Galileo 616 and one Galileo 408 processors.
The Eldborg Hall system was commissioned by Bob McCarthy of Alignment & Design, using the Meyer Sound SIM 3 audio analyser.
'The Mica arrays give us more consistent coverage and power, and it's rider-friendly for top-rank touring acts,' says Harpa Technical Manager, Ingvar Jónsson. 'The performance is outstanding, particularly regarding clarity and high-frequency detail. You could argue that what we have is too powerful for the space, but that just means we will never run out of headroom.'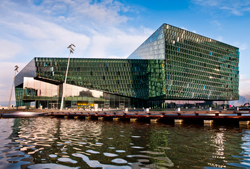 One of the first concerts to use the system was a sold-out evening with Iceland's own superstar oddity, Björk. Other acts slated to use the system later in 2012 include James Taylor, Elvis Costello and Ian Anderson of Jethro Tull.
Harpa's three smaller halls also have permanent Meyer Sound reinforcement systems for spoken-word reproduction. These comprise UPA-1P, CQ-1, and UPJ-1P VariO loudspeakers but can be supported by extensive inventory of portable sound equipment, anchored by 16 M'elodie line array loudspeakers and six 600-HP subwoofers. Also available as needed are ten UPJ-1P, six UPJunior, four CQ-2 and MM-4XP self-powered loudspeakers, along with apair of HD-1 studio monitors. The stage foldback complement includes 14 UM-100P and four MJF-212A monitors.
The Harpa Concert Hall and Conference Centre was designed by Henning Larsen Architects of Denmark in cooperation with artist Ólafur Elíasson. It is operated under the auspices of the Icelandic government and the City of Reykjavik.
More: www.meyersound.com