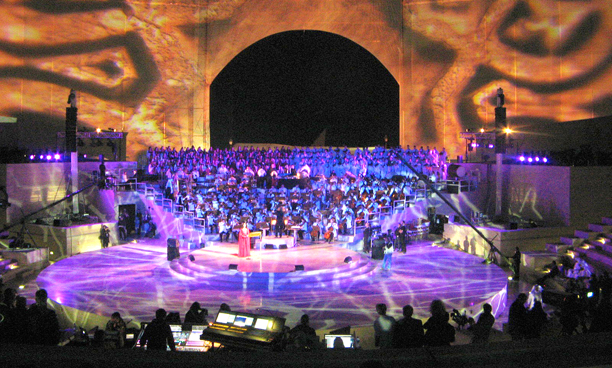 A one-off show by Vangelis marked the inauguration of the Katara Amphitheatre in Doha recently.
While the Greek composer had written a celebratory opus for the grand opening, responsibility for the sound system fell to Paris-based rental company De Préférence. Using DiGiCo and Yamaha to mix the sound and L-Acoustics to deliver it, the company constructed an optical fibre ring using seven of its Optocore and Sane converters to serve the audience of 3,000 people.
The concert also brought together the Qatar Philharmonic Orchestra (a multinational ensemble) and Moscow's Yurlov State Academic Choir, boosted by superstar soprano Angela Gheorghiu and tenorissimo, Roberto Alagna.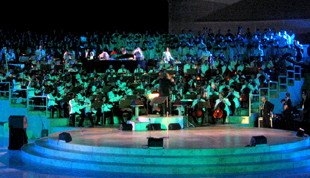 The 14-strong De Préférence crew used an elaborate network loop with Optocore fibre and Sane Cat5 Ethernet platforms, using X6R-TP/X6R-FX converters, capable of handling the main and pre-mixes, including the orchestra and chorus premixes from a Yamaha DM2000 desk. At the same time, Optocore DD4MEs were used to connect via a Madi bridge to the DiGiCo SD7 FOH desk for recording purposes.
Placed on the network were Yamaha DM2000 digital consoles, one handling the stage recording premix and one sending a chorus premix to the DiGiCo SD7 FOH and monitor consoles (for recording). From the DiGiCo environment the digital signal passed through an Optocore DD4ME Dual Madi network device to the Yamaha DME64 PA processor.
The DD4ME's interfaced between the DiGiCo SD7 and the Optocore loop (the Madi 1 output assigned to the chorus premix between the DM2000 and SD7 consoles, while the Madi1 output was a copy of the DiGiCo stage rack). An Optocore DD2FR-FX was used as the Madi interface for recording, with two multitrack recorders – one for playback connected directly to the FOH DiGiCo SD7 and one to the Yamaha desk.
Challenged by the venue's reverberant surfaces, the De Préférence team was able to send a clean, low-latency stereo signal to the clusters of L-Acoustics Kara loudspeaker enclosures positioned around the amphitheatre via the 8-Input/8-Output Optocore X6R converters – these were also assigned to the intercom, while a 64-input Optocore stagerack serviced the chorus.
'The show was a big success,' says De Préférence's Dominique Guerder, who handled the project. 'Thanks to our large inventory of Optocore devices we have the capability to construct advanced networks for events of this scale.'
More: www.optocore.com
More: www.digico.org