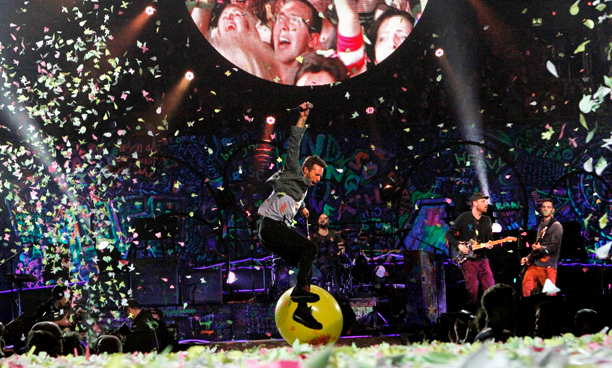 Although the promotional tour for their album Mylo Xyloto finds them working their way around Europe and the UK towards a run of UK stadium shows in June, the band frequently plays odd dates around the world at comparatively short notice.
As a result, a close relationship with their audio supplier, Wigwam Acoustics, is vital to the smooth planning and execution of the shows.
'It's fairly fast and furious with Coldplay at the moment,' says Wigwam's Alex Hadjigeorgiou. 'They jet off here, there and everywhere…
'They do a pretty good job of moving their kit around, but they do get to the point where it's physically not going to make it from Point A to Point B as quickly as the band and the backline, so we sometimes have to provide a duplicate system.
This is where the DiGiCo SD7 mixing system and three XTA DP548 processors that are part of the sound system come into their own.
'With a band like this, there's no getting away with "nearly" products,' Hadjigeorgiou says. 'They know what they want, especially with their FOH engineer, Dan Green, being involved with the album side of things. He's got a very definite idea of how he wants the shows to sound.
'It makes our job easier, because they know what they want. They give us a clear product brief which really aids us in doing a good job for them.'
One request received by Wigwam was for three XTA DP548 dynamic audio management processors: 'Dan did a blind A/B test of the DP548 against processors by another manufacturer and he preferred the XTA. It was pure audio choice,' Hadjigeorgiou reports. 'It was great news for us because we've always found XTA gear to be tremendously reliable, as well as having great backup from them. We have a really good relationship with XTA – Richard Fleming is always very supportive and there are never any issues.'
Green handles the band's FOH mix on a DiGiCo SD7, with the company's latest SD-Racks. While he is happy with the console, again it is important for Wigwam to have full confidence in the manufacturer's backup, something Alex says has not been lacking.
'Because of the major investment we have to make as a company and the high profile of a client like Coldplay, the quality of product support is very important,' he says. 'I'm the guy that gets the phone calls from these chaps when there is a problem, so when those calls come I need to be able to sort things out very quickly.
'We can buy as much gear as we like and put it all out on the road, but if the support isn't there it becomes very, very laborious. We have had a great relationship with DiGiCo over a number of years and the company seems to go from strength to strength. They employ genuine specialists, people who are there to help configure systems, offer advice, sort out any issues and are always available at the end of the phone. We are very happy with the service that we are getting from them.'
'We are really pleased that, on this particular tour, we have so much equipment that's made in the UK,' Hadjigeorgiou observes. 'As far as I know, DiGiCo and XTA are two of a very small handful of companies that actually still manufacture here and we really like that. It is one of the industries where we do still lead the world, to a great extent.
'If you ask anyone anywhere, to name a famous studio, the majority will say Abbey Road. It's great that we still have that industry here, that the music that comes out of the UK is still up there and that we have British companies manufacturing the equipment.
'There have been some interesting challenges for us with Coldplay but, as a company, we like challenges. The bottom line is that if they're happy, we're happy.'
More: www.digico.org
More: www.xta.co.uk