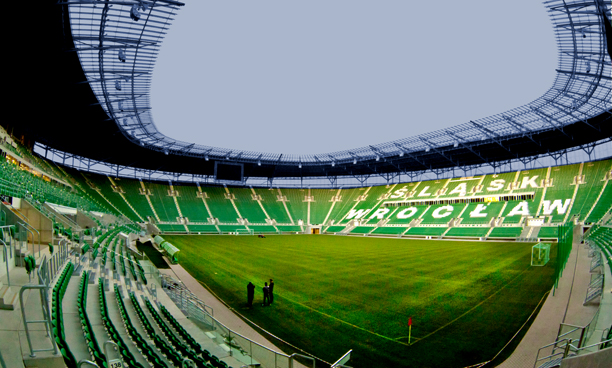 Readying for the summer staging of the UEFA Euro 2012 Championship, Polish technology company ESS Audio is midway through an intensive development programme that will see the completion of several world-class football stadia.
According to ESS Audio Project Manager Witold Karalow, this project has been one of the most challenging the company has undertaken.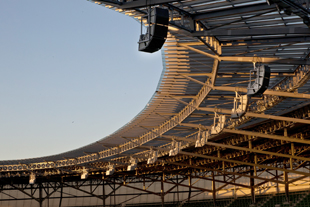 Earlier this year, ESS Audio completed an integrated Harman Professional audio solution in the new PGE Arena in Gdansk, before turning its attention to Stadion Miejski in Wroclaw, the highest Category 4 Municipal Stadium in the country. The ESS technical team engaged in a similar fast-fit installation for the rebuilding of the 42,000-capacity stadium, again sourcing most of the equipment from the Harman portfolio.
Alongside Project Manager Witold Karalow, the ESS Audio project team in Wroclaw comprised System Designer, Wojciech Zielinski; Soundweb Programmer, Konrad Fengler; System Set-up, Wojciech Kopytek and Project Coordinator, Dariusz Kuta.
The team used an innovative architectural concept devised by JSK Architekci and built by German company, Max Boegl –the building is covered by glass-fibre mesh coated with a Teflon fibre net façade. As with the successful PGE Arena design, the company used Ease predictions for system optimisation, dividing the stadium stands into 14 separate zones, and assigning a zone each to the ancillary UEFA, VIP and Incentive boxes.
ESS Audio has equipped the main bowl and stands with JBL PD Series loudspeakers, with rotated horns, specifying a total of 59 PD5200/95-WRX (90° x 50°) and 28 PD5200/43-WRX (40° x 30°), along with 56 PD5125-WRX weather-resistant subwoofers. These are mounted in clusters of five – two PD5200/43-WRX, one PD5200/95-WRX and two PD5125-WRX -. A further three single PD5200/95s fire onto the field, with two single clusters playing in front of the LED screens, aiming 90° down to the lower seating. Two additional clusters, comprising a pair of PD5200/95-WRX and PD5125-WRX, are set behind the LED screens for mid and high seat coverage.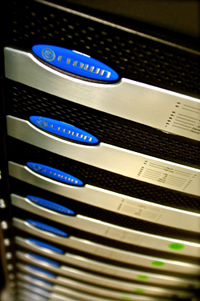 With wind a major consideration, ESS devised custom brackets to secure the PD enclosures, and as a further precaution, secured each PD speaker in the cluster with a steel line covered in polymer.
Powering the rig are 47 Crown CTs3000 amplifiers, fitted with PIP USP4 processor modules, and interfaced with a BSS Soundweb London DSP environment – allowing distribution over CobraNet, and for the system to be remotely controlled and monitored via Harman HiQnet System Architect.
The stadium itself is divided into a number of dedicated zones, including 20 VIP boxes, ten Incentive Boxes (and UEFA boxes), a Business Club, a general esplanade/concourse, a fan shop, team zones (including indoor swimming pool) and media zone. In the UEFA, Incentive and VIP areas, a further 90 JBL Control Contractor 8128 ceiling speakers have been specified, powered by Crown CTs600 amplification.
Amplifier racks are stationed in the four corners of the stadium (each containing a BSS Soundweb London Blu-80 DSP), while an additional Blu-800 processor is located in the Skybox. All five processors are equipped with Input/Output cards.
Each rack also contains an automatic amp changeover (in the event of amplifier failure), an Edimax switch along with several Moxa optical-Ethernet converters/switches, making the system fully redundant. This is easily interfaced with the stadium's voice evacuation and fire alarm system via Soundweb London.
Up in the Skybox – where music is broadcast and live announcements made – is the technical control room where a Soundcraft GB4-16 console, a pair of JBL LSR2325P studio monitors, a rack with AKG DMS 700 wireless mic systems, various line devices (players and recorders) and Soundcraft redundant console power supply are located. An adjacent room houses equipment for evacuation procedures, complete with fireman's switch.
The installation meets all required standards (including an STI of 0.5). ESS provided full training including use of the Skybox equipment, System Architect software and general problem solving. They will be able to log-on and carry out regular health checks under strict safety rules.
More: www.jblpro.com
More: www.crownaudio.com
More: www.soundcraft.com
More: www.bss.co.uk