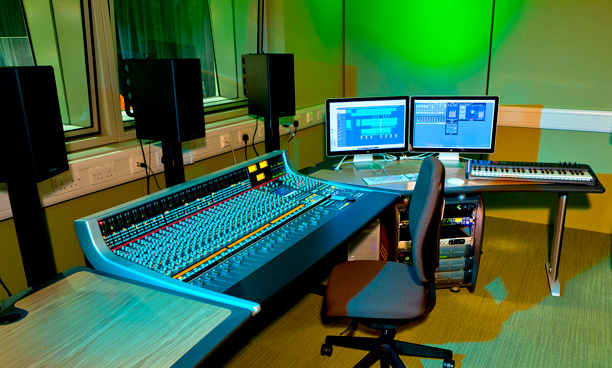 The Performance Hub is the heart of a new multi-million pound performing arts centre at the Walsall Campus of the University of Wolverhampton in the UK. And at the heart of The Performance Hub recording studio is a Solid State Logic AWS 948.
The Performance Hub integrates the music, dance and drama teaching provision – along with related technical support – into one building, with the AWS supporting recording that allows the university's students to learn traditional analogue workflow and DAW control within a single studio.
'The main idea behind The Performance Hub was to bring absolute cutting-edge technology to the facilities, covering all aspects of expression for the performance arts,' says university Music Technician, Andrew Lowe. 'While we looked at other consoles for our main recording studio, it was immediately apparent that the AWS was in a different league than the competition. The console has a quality sound that you can't get anywhere else. When you run a file that has been primarily coded in the box through the AWS, it has more depth and clarity, and that was a big part of the attraction. Audio simply sounds better using the AWS.'
The University offers an innovative Bachelors of Arts degree in Music Technology intended for creative users learning an advanced range of music technology skills for creating and producing sound in a variety of contexts. Graduates typically find employment as studio engineers, producers, film, TV and game sound designers with a background in studio recording techniques, music production, music for multimedia as well as live sound engineering. The AWS is a necessary tool for this programme because it bridges the gap between contemporary in-the-box recording techniques many students are already aware of and crafting sound through high-end analogue electronics.
'Being able to teach proper analogue recording techniques is extremely important for our students,' Lowe adds. 'With a strong background in analogue signal flow, our students gain an understanding of what good sound is and how to create that sound. However, having the flexibility to offer analogue signal flow combined with control of our Pro Tools system from one console surface is spot on. The AWS allows us to maximize the educational experience from one studio and, in these days of strict budget considerations, being able to accomplish what we need from one control room is very valuable. The AWS gives us both learning and space efficiency.'
The AWS also adds to the facility's market appeal: 'While the primary focus for us is educational, down the line we will attract external income by renting the studio out during quiet periods to commercial clients,' says Lowe. 'We have contacts with popular international artists and several have said that when their schedules allow they are going to drop in. Having a facility that will be on par with what they would expect in a professional recording studio is obviously quite important for us. The AWS gives us that professional recognition.'
More: www.solidstatelogic.com