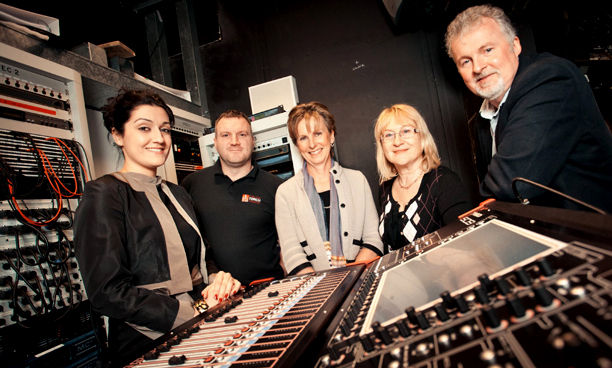 A multi-function venue, the Torch Theatre is part of a wave of Welsh venues hosting plays, films, live music, dance and conferences through its theatre and gallery facilities.
The Torch is part of a growing move in regional theatre of showing live and recorded stage shows, such as those by the National Theatre and New York's Metropolitan Opera. With HD video broadcast over the internet, this allows audiences to ' virtually share' the same venue as the performance as well as providing a valuable extra revenue stream.
It also demands that the audio system delivers equally high-quality sound.
For today's regional venues, a 16- or 32-channel analogue console is no longer a realistic option. With 40 Flexi Channels, 16 Flexi Buses, an 8x8 output matrix, 24 touch-sensitive faders and DiGiCo's Stealth Digital Processing, however, the theatre's new SD9 mixing console delivers everything it needs for the 300-capacity main house and the coming 'superchargeds version promises yet more.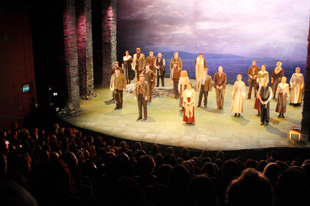 Supplied by Stage Electrics, it has transformed the theatre's experience with digital audio, which began on a less than auspicious note. 'The SD9 isn't our first digital console,' says the Technical Manager, Andrew Sturley. 'Previously we had a 24-channel digital desk from another manufacturer and went through four in a year, so it wasn't a great start. We ended up without any console at all for a while so, when we were looking for a new one, we needed much greater reliability and to be certain that we were getting a quality product for the money.
'We looked at many digital mixing consoles and were unanimous that the multi-functionality, processing quality and size made the SD9 the right desk for us. The Flexi Channels have added a lot of versatility and it has transformed our audio system from being mediocre to excellent, simply by plugging it in. Some incoming productions are now using our system instead of their own, which they never did before.'
As well as the main house, Torch has a studio theatre, featuring 102 retractable seats. It is unlikely to be long before it has its own DiGiCo console: 'The SD9 has become an integral part of our system and we are very happy with it,' Sturley says. 'As soon as we can, we will be buying a second one for the studio theatre.
'The SD9 has transformed things since the initial, very disappointing start to our use of digital audio. I would recommend it to anyone.'
An SD9 enjoying a more nomadic life is that owned by Theatr Genedlaethol Cymru (ThGC), the Carmarthen-based, National Welsh language touring company, which stages Welsh language productions throughout the country and beyond. Supplied by Wigwam, the SD9 is the company's first 'permanent' digital mixing console.
'We were able to secure some Lottery funding to purchase equipment and a high quality, digital console was high on our list of priorities. Our productions vary in scale and the audio system needs to cope with everything from a full blown musical to an intimate performance in a village hall. So the SD9 was the logical choice for us,' says Wyn Jones, ThGC's Technical & Operations Manager.
'We rely a lot on freelance sound engineers and their views were also a consideration. The SD9 is very user-friendly and many of them expressed a preference for DiGiCo. The sound designer on our last tour absolutely loved it and DiGiCo's support has been great. Buying it was a very wise decision.'
More: www.digico.org