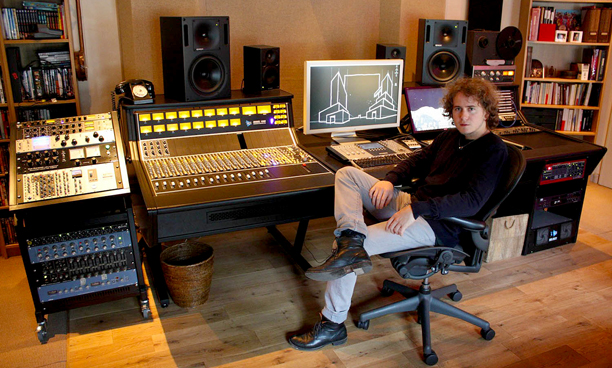 French musician, composer, engineer and producer David Chalmin has made an API 1608 analogue mixing console the centrepiece of his Studio K recording facility in the heart of Paris.
'When I decided to invest in a new console, I knew right away that I wanted something with a distinctive sound,' he says. 'I was going to invest a lot of money and I didn't want a "transparent" mixer. I can reach transparency in the digital world; I wanted analogue.
'When you think of analogue, you think of colour, and when you think of colour you think API. I know the 1608 has the colour that I love.'
Having since worked with Nadeah, the Labéque Sisters and Nicola Tescari and Sophia Charaï, Chalmin has been part of the French music industry since joining Beatles 're-elaboration' contemporary, rock band B for Bang in 2006. He is also a guitarist with Nadeah and member of two other groups – experimental/improvisational rock band Dimension X (guitarist) and rock duet Red Velvet (singer, guitarist). Developing a passion for recording, producing and engineering through a makeshift home studio, Chalmin officially opened Studio K in 2009.
'I also chose the 1608 for its modularity,' Chalmin continues. 'Being born in the digital era, I'm used to having a lot of different EQs [through plug-ins] and, to me, it was great being able to have a console that allowed me to choose different flavours through EQs and other processors. With the 1608, I can evolve the mix along with my tastes or change it by using different modules depending on which project I'm working on.'
Expandability was another consideration for the console choice: 'I designed the console's furniture to fit an expander, which I hope to welcome someday soon. The fact that the 1608 allows you to build upon it little by little makes this top-quality board really affordable.
Running with a Studer 169 sidecar, the API joins an impressive equipment lising that includes: a Pro Tools HD3 DAW; Genelec 1032A and Yamaha MSP5 monitoring; mics from Neumann, Schoeps, DPA, AKG, Shure, Sennheiser and Earthworks; preamps and outboard from SSL, GML, Millennia Media, Drawmer and Thermionic Culture; and plug-ins from Waves and Bricasti.
'The API has exactly what I need and not a thousand things I don't,' Chalmin summarises. 'It's simple and comprehensive. And it's the most beautiful console, isn't it?'
More: www.apiaudio.com
More: www.davidchalmin.com/studiok