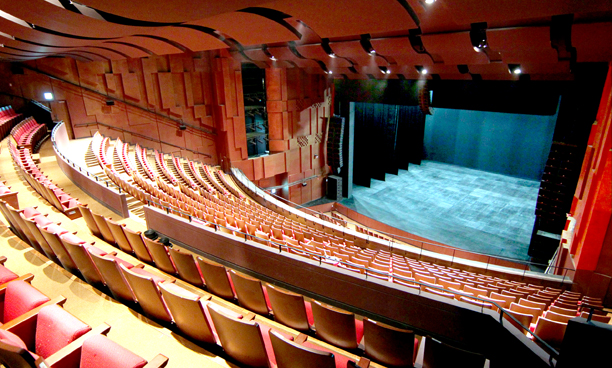 Located within Seoul's futuristic D-Cube City, the cutting edge D-Cube Art Center has raised the curtain on a new productio of the international hit musical, Mamma Mia! The production marks the first permanent L-Acousatics K1 theatre system to be installed worldwide.
Equipped by L-Acoustics' Korea distributor, Dream Sound, with a K1 WST line source and XTi coaxial system, the 1,242 seat venue has been installed with two hangs of eight K1s and two K1-SB subs left and right of the stage, six Karas as down fill, and two stacks of four SB28 subs in cardioid mode positioned on stage below the K1 hangs. Additionally there are four under-balcony hangs of two Kiva WST enclosures, while 32 8XTi coaxial speakers relay musical surround effects throughout the venue. The system is driven by L-Acoustics LA4 and LA8 amplified controllers.
L-Acoustics' XTi Architectural Series has been designed and optimised for permanent and semi-permanent fixed installations such as musicals where visual constraints require a discreet integration. This is accomplished with low-profile rigging and custom RAL colours to match architect and designer specifications.
More: www.l-acoustics.com
More: www.dreamsound.com