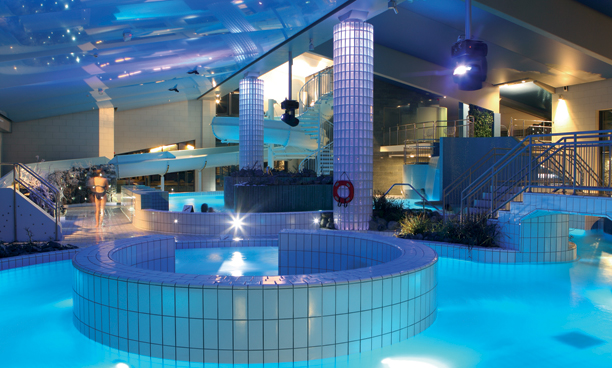 With 220 guest rooms spread across ten hotel buildings, a selection of restaurants, cafes, and clubs, and a world-class spa and bowling facilities, Finland's Kylpylähotelli Levitunturi is dedicated to rest and recouperation – and not a little pampering.
It is also home to a new sound installation, handled by Electro Waves, a leading Finnish company with expertise in the fields of sound systems, lighting and water technology...
Along with a number of partner companies, Electro Waves, played an integral role in the lavish Aqua Theatres for Royal Caribbean International's flagship vessels Oasis of the Seas and Allure of the Seas – giving it all the experience it needed to equip the spa/hotel with a DAS installation
'The new loudspeaker systems are designed to provide ambience (thunder and lightning, music, and nature sounds) throughout the spa while, in the bowling area, the system is intended for loud background music that creates an upbeat atmosphere,' says Electro Waves Sales Director, Jyti Ålander. 'Additionally, there are paging capabilities and, of course, the system handles emergency evacuation notification tasks. We elected to install DAS Audio Variant loudspeaker systems – specifically the Variant 112A powered, full-range enclosures and the Variant 18A powered subwoofers – as they are specifically designed for the installation market.'
In the spa, the Variant enclosures are flown, as this enabled the loudspeakers to blend seamlessly into the environment. The system consists of eight Variant 112As split into two clusters while two Variant 18A subwoofers fill out the low-frequency requirements of the space. In the bowling area, the Electro Waves crew deployed eight Variant 112A loudspeakers – one in each bowling track – plus two Variant 18A subwoofers. These subwoofers reside on the floor behind the room's center pillar.
The sound system is governed by a ClearOne PSR1212 digital matrix mixer, which handles digital signal processing and audio routing responsibilities. This is tied to an AMX NI-3000 NetLinx 8-input/8-output integrated controller. Background music is provided by Viihdeväylä Oy with Vivaldi music software for the PC.
With the new DAS Audio loudspeakers installed, Ålander reports the system was the right choice for this project and that everyone who encounters the system is impressed: 'The DAS Variant loudspeakers are easy to install, the system is easy to tune, and their dispersion characteristics made them the perfect choice to provide even sound coverage throughout the spa and bowling areas,' he says. 'This is, without a doubt, the best sounding spa in all of Finland and, in the bowling alley, the sound is very clear and focused. When combined with the LED lighting and Robe 7000 digital video effects that we also deployed, the ambience is really quite striking. It's the perfect place to escape to for some much needed R&R.
More: www.electrowaves.fi/english
More: www.dasaudio.com