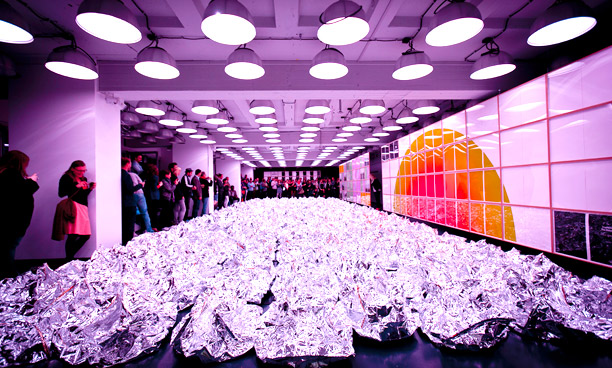 A mix of a creative space, studio and gallery, Berlin's Made provides a unique a environment for artists to create and exhibit interdisciplinary projects.
Located on the ninth floor of a high-rise in the bustling heart of Berlin, Germany. Designed as, the 400-sq-m venue is a showcase of contemporary building design and adaptability, and provides a sound showcase for Meyer Sound's MM-4XP miniature loudspeaker system.
Made is as much an art gallery as a collaborative platform, and can be used as one large room for art shows and concerts or be divided into five separate areas to accommodate other functions. All interior walls are movable and removable and the furniture can be rearranged to accommodate any room configuration. For sound reinforcement, Til Schwartz and Ivo König of Berlin's IT Audio created an equally versatile Meyer Sound system.
'We have been asked to design a very flexible system that is tailored to the room and is as multipurpose as the venue itself,' says Schwartz. 'The loudspeakers had to be unobtrusive and the virtual audio source should be localisable in any place of the venue. Therefore we created quite a number of presets in the Galileo with different delay times and levels feeding the loudspeakers with each one getting its own signal. And without the small self-powered MM-4XP, this would have been a very complex and costly task.'
IT Audio specified five groups of four MM-4XP miniature loudspeakers, three MM-10XP miniature subwoofers, and a Galileo loudspeaker management system with two Galileo 616 processors to create a distributed sound system that can play back multiple programme material in the different smaller rooms simultaneously. During concerts for a larger audience, all of the loudspeakers work together as one integrated system. The loudspeakers are custom-painted in cream color to blend into the architecture.
Since its installation, the system has been used for events and exhibitions that include musical performances by recording artists Aloe Blacc and Erykah Badu, and Moby, among others.
'The small and unobtrusive Meyer Sound loudspeakers blend perfectly into our architectural concept and support our various events and exhibitions flawlessly,' says tadiRock, pop artist and founder of Made. 'We want to give artists as well as visitors a unique experience and Meyer Sound is a part of this effort.'
More: www.meyersound.com