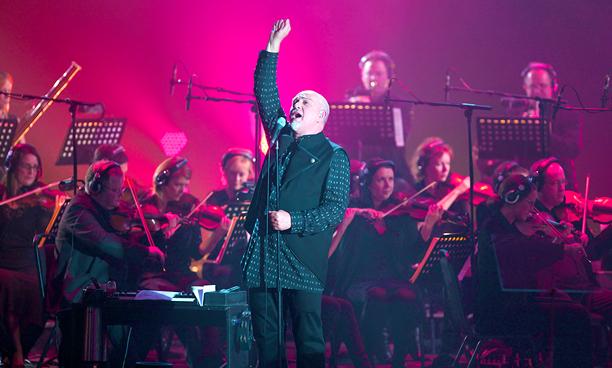 Peter Gabriel's recent New Blood Orchestra Tour saw the pioneering singer, songwriter and technologist making 12 stops at various venues across North America. With 44 musicians on the stage, a reliable, capable and simple-to-use monitor system was essential.
Requiring only a single Cat5 cable, it was Aviom's A-16II Personal Mixers that were called on: 'The Aviom system, in general, was a great performer,' says Dan Ungaretti, orchestra monitor engineer for the tour. 'The solid and very fast connecting 16-channel digital audio network was particularly impressive. The multichannel feature also afforded us the ability to place AC power in just three locations instead of multiple spots throughout the stage.'
With songs from the 2010 Scratch My Back album as well as music that will appear on thr soon-to-be-released New Blood album the tour saw Ungaretti at a Yamaha PM5D-RH monitor console outfitted it with an Aviom16/o-Y1 A-Net Card. A single Cat5 connection ran from the Y1 card to an A-16D A-Net Distributor, positioned under the woodwind riser. The A-16D split the signal to two additional A-16D Pro A-Net Distributors, located behind the conductor's podium. The A-16D Pros provide both power and 16 channels of audio from the PM5D to the 22 A-16II Personal Mixers positioned at the base of each music stand throughout the orchestra. This set-up allowed Ungaretti to set up quickly, keep the stage clean and control certain aspects of the monitor feeds from the console, while also letting orchestra members control what they heard.
'The Aviom network kept me in overall control by allowing me to interface and supply the controllers with the exact audio that was necessary,' says Ungaretti. 'The musicians were then able to work with the easy-to-use interface of the A-16IIs to have basic control over their headphone levels of the mix that I supplied.'
In addition to the Aviom mixers, the New Blood Tour musicians were provided with Sennheiser headphones and in-ear monitoring systems as well as Shure vocal mics, supplied by Firehouse Productions to whom Real World Tours turns for all equipment rentals when Gabriel is on stage in the US.
More: www.aviom.com