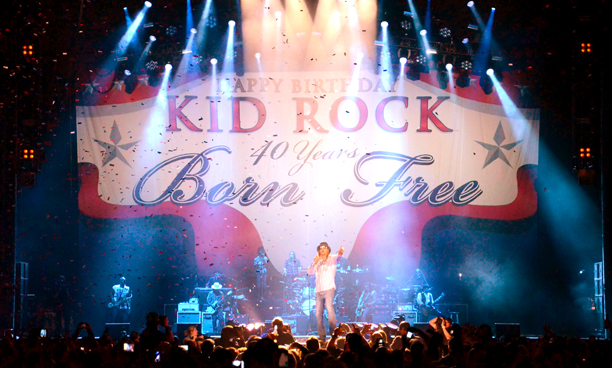 A second US outing in support of his latest album, Born Free, will keep Kid Rock on the road into September. Joined by Sheryl Crow for most of the dates, the tour is using an L-Acoustics K1 stadium line source system provided by California-based Sound Image.
The sound system uses LR hangs of 12 K1 elements plus three dV-Dosc down, each flanked by an adjacent subwoofer hang of eight K1-SBs. Additional arrays comprised of six Kudo per side address the extreme left and right seating areas, while four SB28 per side positioned below serve as front fill subs for the space not covered by the K1-SB hangs.
'My first real outing with K1 was back in mid-January,' says Steve Cross, Kid Rock's FOH engineer for the past four years. 'It was the very first day of Kid Rock's Born Free tour and he was celebrating his 40th birthday with a huge stadium show at the Detroit Lions' Ford Field in his hometown. Not only did we fly more boxes than any other show on the tour so far, but there were at least 15 special guests that showed up to perform with him. So the pressure was certainly on that evening, but Sound Image came out strong and the K1 system sounded absolutely spectacular.'
Having mixed on K1 at the Coachella festival a few years prior, he reports that the current tour spec was driven by the musicians themselves: 'Several of the band members went to see Tom Petty in concert last year and, after hearing that system, they asked us to get in touch with Sound Image and request the same set-up. They were tremendously impressed and knew they had to have it.
'The thing I most appreciate about K1 is that everything sounds extremely natural,' he adds. 'If I put a vocal into a system and know that it sounds proper coming out of the console, I should expect it to sound natural coming out of the loudspeakers – not aggressive or obviously amplified. A good mix is not determined by its volume or looking the right way on an RTA. It's about accurately sharing what's happening on stage and K1 does that very well. Even without the subs turned on, the mains reproduce such beautifully full-range, natural-sounding music. They're a pleasure to work on.'
More: www.sound-image.com
More: www.l-acoustics.com