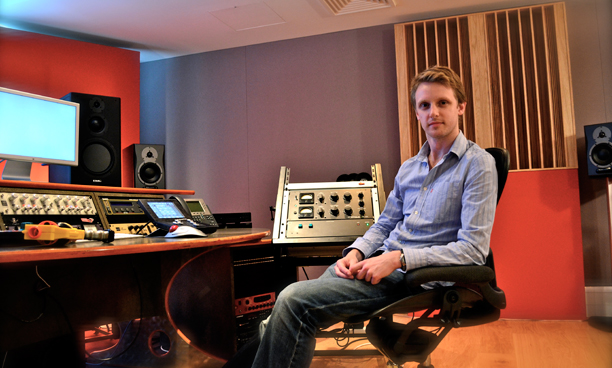 A new acoustic system has allowed UK studio and design consultancy White Mark to install a mastering facility at Extreme Music in London – in just seven days.
Marketed as Fast Studio by White Mark, this new construction method allows high-spec facilities to be completed in less time and at lower cost than regular methods.'We introduced this system to meet market demand for high-quality studios that are acoustically accurate but are quick to install and which preserve more of the character of the original building than a conventional studio,' White Mark MD, David Bell explains.
'We have recognised that not everyone has the time or the requirement to invest in high levels of isolation, but everyone still wants a room that sounds good and delivers the acoustic performance they would expect from a room bearing the White Mark name.
'Our system uses properly constructed and individually specified acoustic modules that are assembled off-site, making them very quick and easy to install. They are ideal for rooms using free-standing monitors and in which there is no need for full isolation. We always insist that Fast Studio customers have their initial drawings and monitor set-ups carried out by our team of experts so that we can guarantee both the viability of using the system and the level of performance that will be achieved, but, provided the room meets our criteria, we can deliver a studio that satisfies our customers' requirements – and in a fraction of the normal time.'
Its use of free-stamding monitors meant that Extreme Music (the production music arm of Sony ATV) was well suited to the Fast Studio treatment. The music library already had an existing mastering facility at its premises but needed to upgrade its layout and acoustics to achieve the production standards necessary for the work it was doing.
'We had an opportunity to upgrade the studio and called in a number of studio design consultants to see what they might suggest,' says Chief Mastering Engineer, Nick Cooke. 'White Mark came highly recommended, having recently completed Ray Staff's new facility at Air Mastering. They immediately got our attention by suggesting that we turned the room around and positioned the desk in front of the window. This not only improved the feel of the room but also created much more space.'
'In the case of Extreme Music, we used six panels that were installed by our builders, Oakwood,' Bell adds. 'We also created a new section of flooring that is rigidly fixed to the concrete structure beneath and packed all remaining voids with mineral wool to control unwanted resonances. The work was completed very quickly and has made an enormous difference to the acoustics of the room, giving it performance characteristics that are comparable to the best monitoring environments anywhere in the world.'
Among the Extreme Music stable of Award-winning producers and composers are Timbaland, Hans Zimmer, Quincy Jones, Snoop Dogg, Vince Clarke Xzibit and Steve Jablonsky. 'All of our mastering is handled in-house and because we are committed to excellence, we wanted a mastering facility that reflected this philosophy,' says Cooke, who joined Extreme Music a year ago from De Wolfe Music. 'White Mark has achieved remarkable results with our studio. The new system has made a huge difference to the acoustics of the room – to the extent that even our non-technical staff comment on how much smoother everything sounds. I'm also thrilled with the new layout, which has made it a much nicer place in which to spend time.'
White Mark's Fast Studio system has already been used to great effect on other projects including an advertising agency in Mexico City, a production studio for BBC producer Peregrine Andrews and Giles Martin's new room at Abbey Road. White Mark is currently constructing a private mixing facility for MPG Award-winning producer/engineer Cenzo Townshend.
More: www.whitemark.com