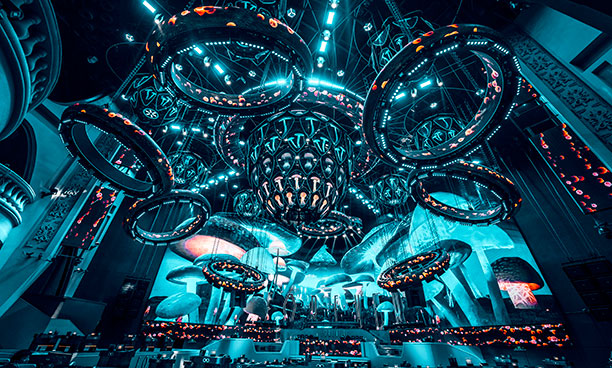 A spectacular opening night marked the opening of China's largest nightclub project of 2022. Situated in the Xintiandi business district of Wuhan, the Forever Club employs fashion, art and music in its ambition to create a new entertainment landmark. In keeping with its high-class décor and ceiling creations, Forever has invested in a flagship VHD5 sound system from KV2 Audio – the second VHD5 installation in a Chinese nightclub, the first being at Taxx II in Shanghai.
The main room contains breathtaking trussing structures, sophisticated lighting and 3D effects, as well as the VHD5 system which was specified, designed and installed by Guangzhou Idee International Sound System (IDEE) part of KV2's Chinese distributor AVMedia.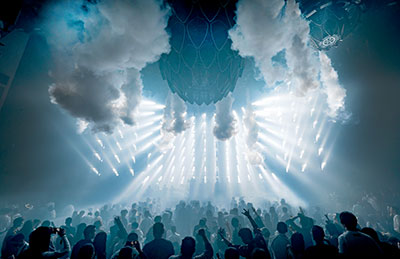 Financed by Chinese entertainment giant Noah's Ark Group, Forever Wuhan is a 5,000sq-m venue comprising three main areas – the principal 2,000-capacity House Style hall, a smaller Hip-Hop area, and several private KTV rooms.
'As with everything else in the club, the investors wanted a sound system that was out of the ordinary – something that would create an experience never to be forgotten,' says AVMedia's Mr Tony. 'Noah's Ark were already familiar with KV2 as they'd previously replaced systems from other extremely well-known audio brands with KV2 in five of their other nightspots around China, as the other systems simply didn't live up to their expectations. When I suggested the flagship VHD5 for Forever, they didn't hesitate.'
AVMedia specified a LR system comprising a VHD5.0 mid/high and VHD8.10 low/mid element per side, with two VHD2.0 for front fill. Sixteen ESD12 two-way, full-range loudspeakers (known as Time12 in China) act as a fill system for the numerous private booths and VIP areas, while 50 ESD1.18 subwoofers provide sub bass reinforcement. Twenty-four of the subwoofers cover the 16m in front of the DJ booth, with eight subs built into the front of the booth itself and eight subs flown per side. The remaining 26 are built into seating booths distributed across the back of the room. Power, processing and control for the VHD systems are supplied by VHD power units, VHD5000, VHD5000S and VHD2000 respectively. Finally, a pair of ESM312s act as DJ monitors.
Audio for the smaller Hip-Hop room (150 capacity) is provided by a pair of ESM312s, a pair of Time12s and twelve ESD1.18 subs.
'What never fails to impress with KV2, and in particular the VHD systems, is the ability to cover such vast areas with so few boxes, yet the clarity and precision wherever you are in the room is simply unrivalled,' says Mr Tony. 'Forever aims to impress at every level – visually, aesthetically, and sonically – it is certainly right up there with Taxx II as one of the world's superclubs. We're very proud to be part of the Forever experience.'
More: www.kv2audio.com