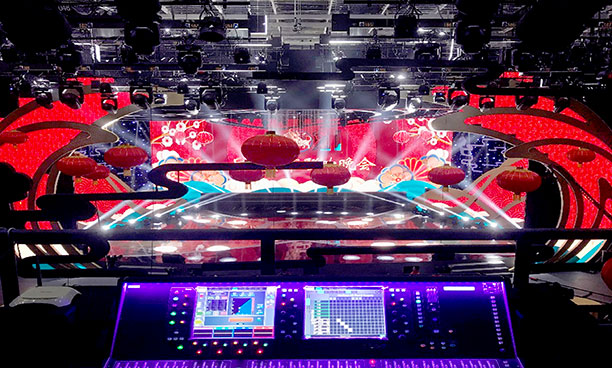 While the caravans that once travelled the Silk Road have given way to modern forms of commercial transport between Asia, Persia, The Middle East and Southern Europe, the flow of news, culture and entertainment to China's largest province continues thanks to the Xinjiang Corps TV Station, serving the provincial capital Urumqi and its 12 surrounding regions, reaching more than 12m people in the northwest of the country.
Needing to modernise its in-house A/V systems, the broadcaster called in EZPro International to design and provide a solution for its main 1,500m² studio, smaller 400m² studio, review room and conference room.
The main studio leverages assorted technologies supporting a wide range of productions including live performance, large-scale galas and variety shows. To meet their varied demands, EZPro turned to a pair of 36-fader Allen & Heath dLive S7000 Surfaces partnered with DM64 MixRacks with Dante cards to provide a redundant system offering 128 input processing channels and highly-configurable bus architecture.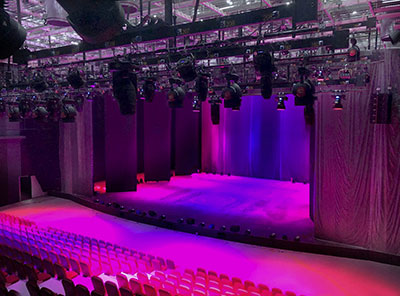 dLive's show/scene system, providing both full and partial scene recalls with granular filtering options, was a factor in the choice of dLive for the project. 'To meet the needs of different productions, scenes need to be changed quickly and frequently, so flexibility was a critical consideration,' explains EZPro Project Designer, Fan Gaoqing. 'With the dLive system, we could store and recall different modes by using Show Files, Scenes and the Preset Library to achieve very efficient changeovers.'
To provide dual system redundancy, the primary and secondary Dante ports were used on both systems, in conjunction with an analogue connection that can be used in the event of a network outage. The Dante and analogue outputs from the mixing system feed a main EAW line array PA system, and three Powersoft Quattrocanali DSP+D amplifiers driving additional passive EAW loudspeakers.
dLive's modular approach to system building provided further benefits to the install according: 'dLive solved a problem where the control room is a relatively enclosed space that is not friendly for mixing engineers' Fan notes. 'As the dLive audio engine resides in the MixRack, we can easily change the location of the Surface whenever required. This meets the requirements for flexible FOH positioning, ease-of-use and fast set-up.'
Elsewhere in the building, the 400m² studio – used for small and medium-scale programmes such as musical performances, interviews and comedy shows – and its review and conference rooms, are equipped with multiple A&H dLive C2500 Surfaces and CDM32 MixRacks to offer maximum flexibility in all applications.
'Allen & Heath consoles are always our first choice – they are advanced, reliable and flexible,' says Wang Xiaoyang, the EZPro installation engineer on the project. 'We believe the whole system raises the bar for sound reinforcement in TV production studios.'
'Furthermore, the variety of built-in Deep Processors greatly helped the FOH engineer to deliver a studio-quality mix for music performances,' Fan adds.
More: www.EZProintl.com