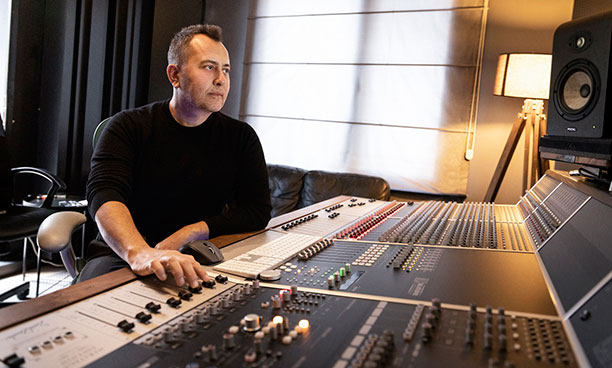 Producer and prolific songwriter/composer Ozan Çolakoğlu has upgraded his studio with the installation of a new Audient ASP8024-HE mixing console. With hundreds of songs credited with to his production, writing and arrangement over a 30-year career, Çolakoğlu's name is never far from the Turkish Top 10. Most recently, he has recorded prominent Turkish singer-songwriter Tarkan, delivering the megastar's long-awaited eleventh album using the British desk.
The console is installed at his Istanbul production company, Ozan Çolakoğlu Production, which comprises a recording studio, mixing/mastering room and production/arrangement room. His Ozinga Music record company is also based here.
Çolakoğlu has found it to be an excellent choice: 'The Audient mic preamps are great, they are really clean.'
The 24-channel desk has a built-in patchbay and Dual Layer Control (DLC), an option that provides a range of DAW control features for use directly via the console. 'Thanks to the DLC our workflow is better than ever,' he says. 'I also enjoy recording drums and crushing them with ASP8024-HE's bus compressor. It really has a unique character.'
Over the past three decades, Çolakoğlu has become one of the best-known names on the Turkish pop scene for producing, composing and arranging. A chance meeting with Tarkan at the beginning of the 1990s kicked off their life-long working relationship, which started when he worked on Tarkan's hit debut album, Yine Sensiz (Agaig Without You), released in 1992. As well as contributing to Tarkan's rise to mega-stardom, Çolakoğlu also produced Sertab Erener's 2003 Eurovision winning song, 'Every Way That I Can'.
The console was purchased from Audient distributor Akalın Müzik, where Çolakoğlu has been shopping for the past 30 years. 'They have never let me down with their advice and support. Audient of course was their recommendation. I am very pleased with his console and am so grateful to Akalın for their advice.'
Tarkan's album will be available soon.