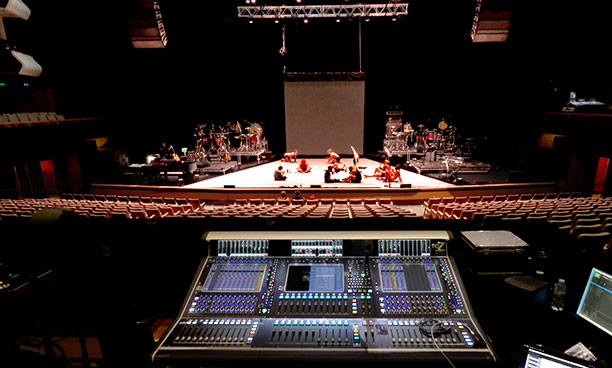 Performed live at the Southbank Centre's Royal Festival Hall in London as part of a series of performances marking its 50th anniversary in 2023, Mike Oldfield's Tubular Bells saw DiGiCo SD7 consoles at both FOH and monitors alongside additional equipment provided by RNSS Ltd, the production company based at London's Southbank Centre,that manages sound for large UK events.
With musical direction from Oldfield's long-time collaborator Robin A Smith, Tubular Bells: Live In Concert featured a live band, with actor Samuel West replacing the late Vivian Stanshall as master of ceremonies. The music was brought to life on stage through a visual interpretation by the Circa Contemporary Circus, led by Artistic Director Yaron Lifschitz, with ten acrobats representing Oldfield's work.
' is an iconic piece of music, and the original recordings are held in such high esteem for many people, that when you come to design or create a production of it, you really have a choice between faithfully recreating the original, or to use modern techniques to get the best out of the music itself,' says FOH mixer and sound designer, Colin Pink.
Recorded in 1973 at The Manor, Tubular Bells not only launched the nascent Virgin record label, but also pioneered solo music production by overdubbing, and sold more than 20m albums.
With nine musicians re-creating the studio album (recorded with 20 instruments) to a click-track, synchronised to acrobats, the DiGiCo SD7s handled more than 130 input channels including a numerous percussion instruments. 'Robin A Smith gave me free reign on the audio design, so I tried to think how Mike would have approached it if he had written it today, using the best equipment available and the ability to refine his sound while keeping its raw energy,' Pink explains. 'With the various styles involved in the music I extensively needed the Snapshot feature to keep up with the "housekeeping" to allow me time to concentrate on the mixing itself. The beautiful thing about the SD7 is it's so fast and flexible, it allows you to work very quickly and therefore gives me more time to refine my mix.'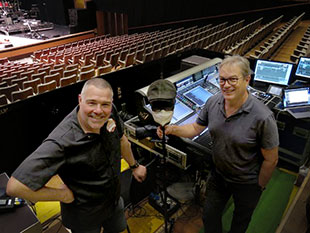 With so many instrument changes, all the band were provided with stereo IEM mixes from the monitor DiGiCo SD7, except for pianist Dominic Ferris, who preferred to hear his piano acoustically so sported one mono, hard-wired earpiece plus a Genelec loudspeaker. A pair of mono wedge-monitor feeds were used, one to give guitarist Jay Stapley a bit of sustain and one for bass player Lisa Featherston, who sang 'Moonlight Shadow' and needed her vocal through speakers.
'Because the music is incredibly dynamic, I was worried about the click disappearing in musician's mixes during loud sections, then being too loud in quiet sections,' says monitor mix engineer, Seamus Fenton.
Without the additional natural cross-feed of a human head, a stereo IEM mix is heard between the ears instead of around them, contributing to hearing fatigue, so Fenton decided to use a Klang:fabrik Dante-enabled digital processor to add 3D HRTF processing, binaurally panning them across each stereo mix.
'I was not able to accommodate the entire channel list on the Klang:fabrik, so I opted to put all of the playback tracks through it. This ended up being a great thing, as I was able to locate these tracks "behind" the live instruments, which created much more space in the IEM mixes for the musicians,' he explains. 'The click track was placed in the centre and "above" – which meant the click stood out on its own without being too loud'.
Fenton's foresight was rewarded with very few click-related monitor calls, which are a common bugbear for shows depending heavily on playback audio.
Fenton found the SD7's three screens kept his snapshots and chosen channels in a prime position. 'One of the things I love about the SD7 is you can tailor the workflow to make it very fast to use,' he concludes. 'This was especially useful for speedy communications with the individual members of the band which was essential for efficient rehearsals.
'The whole production was a very happy ship, and was great fun.'