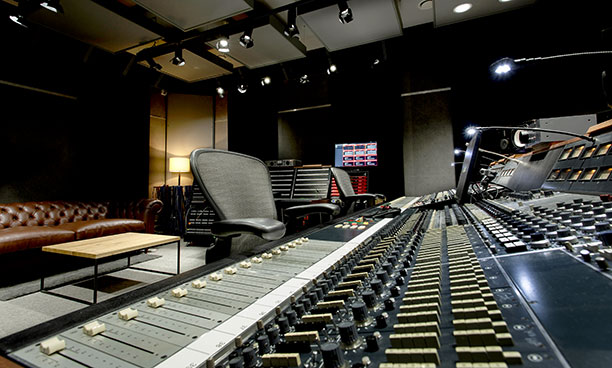 Marshall has built a world-class recording studio adjacent to its UK factory facility in Milton Keynes. 'This has been a passion project for the Marshall crew,' says Commercial Director, Alex Coombes. 'Our ambition was to build a versatile and flexible commercial multimedia facility to serve the entertainment market, and at the same time to promote young talent and give something back to the artist and producer community.'
The new-build facility is on the site of an old theatre, and comprises a live room with stage, lighting and PA, an artist Green Room, bar and reception area, and recording control room with a 40-channel Neve 8048 console. Four Focusrite RedNet A16R 192kHz interfaces feed a Dante network, with an Avid HDX card supporting Pro Tools Ultimate recording.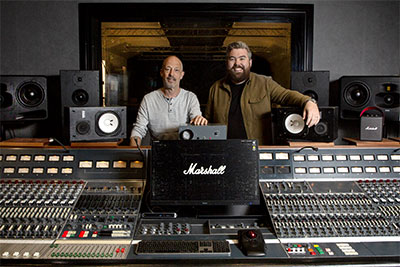 Producer Chris Sheldon (Foo Fighters, Feeder, Therapy?) has already been in the studio recording rockers Bad Touch. 'I love the new Marshall Studio, he reports. 'The vintage Neve desk sounds glorious – anything coming through those mic preamps sounds, well, better. A microphone selection to cover all eventualities and if you can't see something you like, lots of equipment is much two minutes away in the factory. What's not to like?'
A loading bay with ramp leads directly to the stage in the 273m2 live room, with a reduced ceiling-height area for intimate recording located in front of the separate Green Room. There are more than 100 microphones available, and the facility is equipped with tie lines and loudspeaker connectors and AoIP Ethernet links.
'Every part of the building has a mic tieline, a speaker output, and an instrument output for guitar amps, plus you've got data via RJ45 for monitoring or remote connection via six Focusrite RedNet AM2,' explains Studio Manager, Adam Beer. 'We can take any Dante mic preamp, put it anywhere in the building, it will come into our main network and we can record it directly. It means that the whole building is effectively the studio, even the office at the top.'
Beer arrived at Marshall after a decade in recording and live sound. 'I think we can do everything here,' he says. 'It's a concert venue with capacity for an audience of up to 250 people and we can do video filming – for product reviews, podcasts, live concert streams – you name it, we've set up a place that can allow creative people to fulfil their potential, whatever they want to do. I think it's a massive vote of confidence in the creative industry from Marshall. It's a privilege and an honour to be heading it up.'
The control room is centred on the vintage Neve, with a custom analogue patchbay installed to the side. Configured by renowned Neve expert Blake Devitt (who was responsible for the huge Neve at Paul Epworth's ICP studios in Belgium and Miloco's Pool studio), the console frame came from EMI Pathé-Marconi studio in Paris and is populated by a selection of hand-tweaked modules.
To the left are 24 channels with 1093 modules, while the right-hand 16 channels include a mix of 1065, 1066 and 1095 modules. The re-build also made space in the centre for the Pro Tools screen and keyboard, with Devitt adding three new low-noise bus bars, including one for solo-in-place, for the Neve summing system.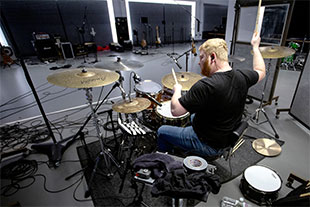 'The limiting factor for many vintage consoles is the record/overdub/mix modes in the master section – which of course only made sense during the tape era,' Devitt says. 'This mixer, as it has been re-configured, gives you two completely separate consoles which can be used for whatever the producer wants. I've even made the patch section "plug in" in blocks of eight by changing the sockets underneath to reflect custom configurations, so the mixer can be set up without filling the patchbay with a nest of cables.'
Beer reports the first recording session a success: 'Romesh Dodangoda (Bring Me The Horizon, Motorhead, Funeral For A Friend) produced some amazing recordings on the first test session, and the band went away very happy,' he confirms.
This commitment of a major MI brand to the facility offers hope for better grass-roots artist development in the UK. 'I think that having everything under one roof is such a sensible way to go for the company and for the industry itself,' Beer says. 'You need to provide something for everyone, and every type of performance.
'I think that the spirit of Jim Marshall really lives on in this place. Although I wasn't fortunate enough to meet Jim, from what I have been told, this is exactly the kind of thing he'd want us to do.'