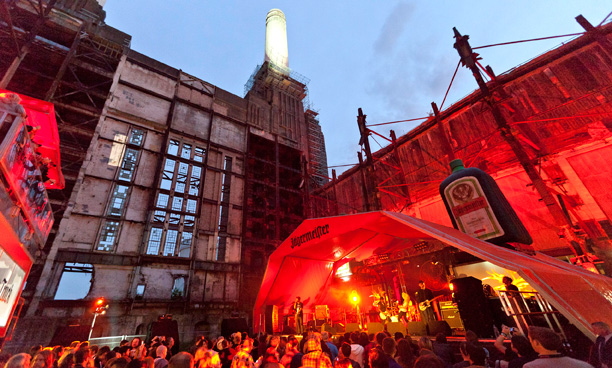 Famed for its appearance on the sleeve of Pink Floyd's Animals, the derelict Battersea Power station was used by experiential marketing specialist Lucid UK for a massive rebranding.
The bank of the River Thames in south London was the setting for the rebranding of drinks company Jägermeister, with RG Jones Sound engineering providing Synco PA and stage monitor systems for the 'Ice Cold Event', which featured Alice Cooper appearing in holographic 4D. 'We couldn't resist this,' says Alice, 'Working with Jägermeister to appear as holograms on the other side of the Atlantic is the ultimate experience, a cutting-edge conjuring trick that celebrates the future and our history.'
The event was hosted by DJ Zane Lowe, who played an exclusive DJ set at the event; with live performances from Jägerband The King Blues; and further sets from XFM DJs Eddy Temple Morris and Ian Camfield, plus a range of visual experiences incorporating Battersea Power Station's iconic architecture.
As FOH engineer for Glastonbury's Pyramid stage for two years running, RG Project Manager Steve Carr is no stranger to rock 'n' roll. 'Battersea Power Station is such a stunning venue for this type of event,' he says. 'The acoustics in the turbine hall are unique and helped to give a big sound. There was a lot going on but the team were outstanding with Ricky Spiers on FOH with me, Mark Edwards on system, Tim the Wann on monitors and Jack Bowcher on stage'.
RG Jones was brought in by project manager Stephanie Rutherford following a successful earlier collaboration, tasked with designing and installing a multi-zone sound system to cater for an outdoor stage, playback for a giant video projection and sound for an Alice Cooper 4D holographic projection installation, as well as a distributed system for the DJs.
The outside stage, where The King Blues played a storming set, featured a full rock 'n' roll PA with six Synco by Martin Audio W8LMs per side, and XTA DP448s and a Yamaha M7CL console for control. Monitoring was all Synco wedges. For the interior space, where a giant temporary structure with a transparent roof housed the holographic feature and two bars, a Synco by Martin Audio W8LC system delivered the goods, mixed on a Digidesign profile desk with more XTA DPA448s for system processing.
A third system was used for payback for 3D pixel mapped video projections, and comprised L-Acoustics 112XT cabinets. 'The trick with it was to be able to time the systems so that when the action was happening either on the outdoor stage or inside the structure, attention was drawn inside or outside, we'd set up the PA into two zones with preset delay times, so that we could flick between the two seamlessly,' says Carr.
More: www.rgjones.co.uk