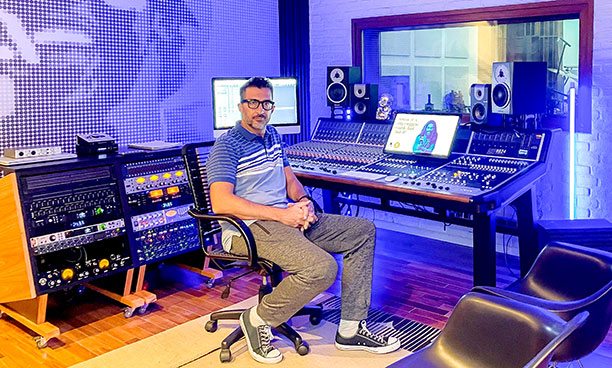 Producer, musician, recording and mixing engineer FedaRoots (Fede Soto Roland) has recently installed a new ASP8024-HE console in his Negril Music Studio. Based in Buenos Aires yet inspired by the music styles of Jamaica – from reggae and ska to dancehall – the desk marks culmination of a four-year move towards analogue working, and represents the beginning of a new era for the studio and its clients.
FedaRoots opened the studio in 2017 with an almost exclusively digital set-up. Over the years, he released more than 110 songs, including three well-received Spanish Tributes to Gregory Isaacs. 'As I got more and more involved in the production of albums and singles, I became more aware of the difference of having a hybrid set-up. So after a few years I decided to add more hardware,' he explains.
It was while the world was in the grip of a global pandemic that FedaRoots got really motivated. 'In 2020 realised I wanted to go all-in with my idea of professionalising the studio. I started to buy more hardware for the mastering chain in particular. I believe that there is something about hardware that digital plug-ins still can't capture. The more hardware I bought… Well, it is like a drug – you just can't stop'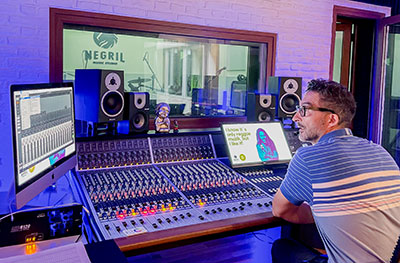 Then the time came to explore analogue consoles. Originally in the market for Audient's more compact ASP4816 console, he did his research and decided that the ASP8024 Heritage Edition would serve him best.
'When I discovered the functionalities and aesthetics of the ASP8024-HE, there was no turning back,' he recalls. 'This console gives me the opportunity to start expanding my analogue chain with no limits. Its versatility, its many send/return options, the point of being an in-line console that makes things so easy and fast when tracking, the quality of its mix bus, its integration with the DAW through its DLC module and the fact that is made from a recognised brand like Audient in the UK, were many of the reasons for my selection.
'Also I have to admit the way it looks played a key role, too,' he adds .'I believe it will be an essential differentiator in the marketing of my studio in the years to come. Everyone who sees it automatically falls in love.'
Sure enough, the arrival of the new analogue console has helped broaden the studio's musical horizons: 'I am partnering with some top-notch local producers to start recording and mixing other styles beyond reggae music, such as indie rock, pop and electronic music,' Argentina reports. 'I am pretty excited about this and I couldn't attract such talented people without my new set-up.'
FedaRoots is currently back in familiar territory, working with Bahiano, the former lead singer and composer of reggae group Los Pericos (the band that popularised reggae music in Latin America). Producing, recording and mixing his new album, as well as a new Spanish tribute, this time to Black Uhuru, with guest singers Quique Neira, Balaguero and Kingo Roots from Chile, and other artists from the region.
'I fell in love with reggae music when I was a teenager more than 33 years ago,' FedaRoots reflects. 'Ever since then I have dreamt of having my own music studio; to produce and record my music and other talented artists from Latin America – and the whole world.'
More: www.audient.com