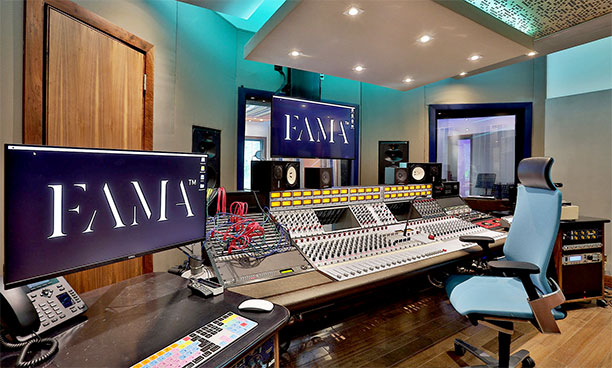 A forward-thinking music company and boutique record label based in the Dominican Republic, FAMA has a strong focus on artist development – a priority that has seen the company open a recording complex to accommodate creative retreats and songwriting camps.
The facility occupies three-storey luxury premises in Santo Domingo's historic Colonial District with acoustic and aesthetic studio design by John Storyk's World Studio Design Group (WSDG).
'FAMA described their dream studio to us, and WSDG delivered,' says WSDG Partner/Project Manager, Sergio Molho. 'They found a wonderful building with very sound bones and terrific views, and we helped them to create a showplace destination studio. Interestingly enough, their sister company owns a boutique hotel right next door to the studio, so there is every reason to expect it will attract an international clientele.'
On the first floor, Studio A features spacious control and live rooms, an iso booth, sound lock and an outdoor patio for client breaks. The second floor accommodates Control Rooms B and C, a shared live room, iso booth and CMR. The third floor is dedicated to a large apartment-like living room/kitchen/dining room client lounge with a panoramic view, and an expansive terrace with a shallow ornamental pool.
WSDG Partner/Art Director Silvia Molho devised the colour and lighting scheme for the FAMA complex. Control Room A is distinguished by perforated wood wall and ceiling treatments, a 32-channel Rupert Neve 5088 analogue mixing console, Adam Audio SD3 stereo monitoring, an arsenal of outboard gear and views into the Live Room. Two sound locks, one offering a custom-designed acoustic wooden wall, and a patio complete the first floor configuration.
On the second floor, Control Room B is equipped with an SSL Duality 48 hybrid mixing console, Adam Audio and Focal speakers for 5.1 feature film audio mixing. The compact CR C, Avid-based project studio is equipped with Neumann loudspeakers. Both control rooms share the two-storey-height Live Room, which is graced by graduating, multi-colour custom 'ribbed' acoustic wall and ceiling treatments created by Silvia Molho.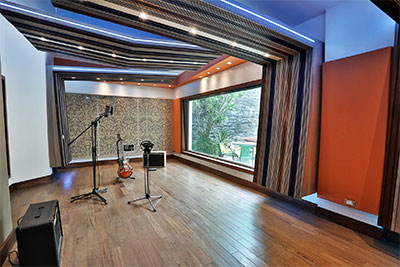 A wooden staircase leads to the third floor lounge. 'FAMA understood the importance of complimenting flawless acoustics with an inspirational aesthetic environment to stimulate clients' composing and performing creativity,' Silvia Molho says.
To accomplish this, she developed a colour palette of tropical greens and sky and sea blues, She also suggested a 'tunable' LED lighting scheme be installed at key ceiling and floor points to provide mood enhancements. WSDG engineer David Molho acoustically tuned all recording and production rooms.
'FAMA Studios is a true gem,' Sergio Molho says. 'It is beautiful, fitted with an impeccable array of world-class technology, and it is owned and operated by audio professionals committed to providing his clients with the best possible recording experience. WSDG is extremely proud to have contributed our skills to this remarkable studio.'