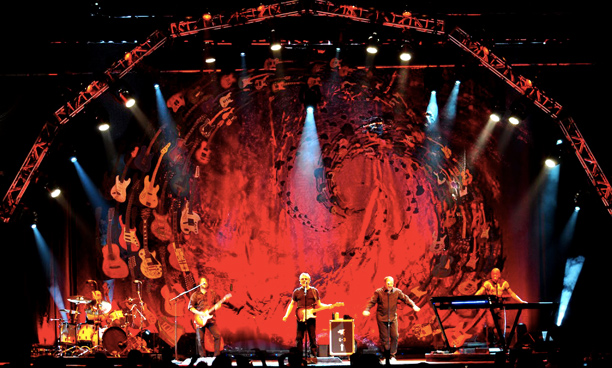 After endless studio albums and more than 40 years on the live scene, Steve Miller took to the road for two weeks with special guest Gregg Allman for a string of US dates promoting his new release, Let Your Hair Down.
Although Steve Miller Band (SMB) often performs with a V-Dosc system, the SMB production crew and Clearwing Productions chose an L-Acoustics Kudo-Kara system for this tour leg's ten shows. 'We've used Kudo for a few one-offs in the past but it was nice to finally carry it for a couple of weeks and really see what it was capable of,' says SMB System Tech Tom Martinez.
'We primarily stopped at amphitheatres, arenas and performing arts centres on this trip, so Kudo's size and performance fit those venues perfectly. And I have to add that Kara also sounded fantastic. This was the first time we had used those systems and they were brilliant. They provided such a seamless transition between the main arrays and the side hangs.'
The crew flew 12 Kudo enclosures per side for main PA with six-Kara arrays addressing the extreme left and right crowd areas. Furthermore, eight small L-Acoustics coaxial systems broadcast smooth coverage to the audience in front of the stage, while six SB series subwoofers per side – typically groundstacked in a cardioid configuration – delivered the low end. All systems were powered and processed by L-Acoustics' LA8 amplified controllers.
'Kudo provided a lot of nice open air on the upper end – it gave a particularly beautiful chime to the ride cymbal, among other things – and I really appreciated its smooth mids,' offers Scott Boorey, Steve Miller's personal manager and FOH engineer for the past 18 years. 'Steve typically plays a Strat, which can sometimes cause a lesser system to bark, but the Kudo sounded lovely. Other than that, the imaging was amazing, the bottom end was tight and punchy, and I thought the rig worked equally well both indoors and outdoors. I loved it and look forward to using it again.'
The Kudo and Kara set-up also pleased SMB Production Manager Brett Enzensperger: 'We needed to fit the entire tour into two tractor trailers, and two-thirds of one of those was occupied by our backline, risers and sets,' he says. 'As much as we like V-Dosc and dV-Dosc, they simply would not have packed into the limited space we had available, so this was a winning solution.'
More: www.clearwing.com
More: www.l-acoustics.com