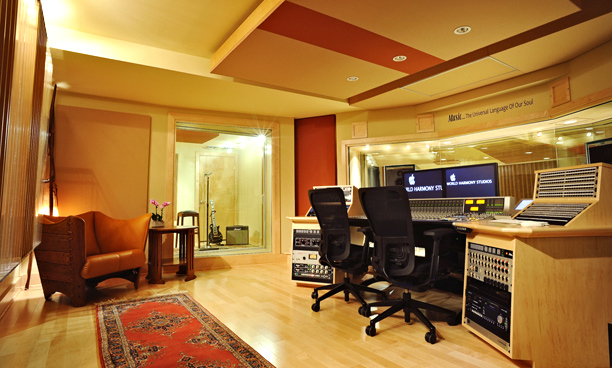 Joining the recent string of high-end recording studio openings, World Harmony Studios is the pet project of producer/businessman Samuel Nappi. Geared to accommodate a wide range of theatrical, feature film and music recording projects, it is set on a 300-acre horse farm/vineyard in Upstate New York.
'It was clear from the beginning of this assignment that World Harmony will be a very active studio,' says WSDG co-principal John Storyk, who is responsible for the design. 'Sam has a full slate of ambitious and quite meaningful projects on his To Do List. It will be very interesting to see the impact this studio has on the contemporary entertainment scene.'
The 2,500-sq-ft complex contains a custom 700-sq-ft live/screening room, a 300-sq-ft control room; 120 and 220-sq-ft iso rooms, a lounge and a full tech support system. Its redwood lodge/guest house offers a comprehensive range of comfort-focused amenities including a gourmet kitchen.
World Harmony is centred on a Solid Stae Logic AWS924 hybrid mixing console and Avid Pro Tools-HD2 Accel-PCIE HD workstation, with Adam Audio S4X-V main monitor loudspeakers, AS two-way active studio monitors and Sub10 MkII subwoofers.
An extensive collection of outboard gear includes TC Electronic System 6000 reverb and Antelope Engineering Isochrone OCX Master Digital Clock. Plug-ins come from the Waves Platinum and SSL TDM bundles, and Eventide Anthology II bundle. The mic cupboard is stocked from the catalogues of Neumann, Royer, AKG, Shure, Electro-Voice and Sennheiser. For musicians' monitoring, there is an Aviom AN16i with 16D-Pro Headphones.
WSDG system integration specialist Caroline Feldmeier developed the comprehensive, easily accessed wiring programme.
'To take advantage of its pastoral setting, we incorporated as much glass as possible throughout the studio,' WSDG project manager Joshua Morris reports. 'We've had great success in "floating" the main speakers within custom glass walls to improve visibility between control and live rooms. World Harmony is a prime example of this new design development. Our room-tuning specialist, Dave Kotch reports the response times and overall room sound to be as good as any he has ever heard. By deploying custom clear glass low frequency diffractals to the windows at the rear of the control and live rooms we accentuated the views, including the Adirondack Tug Hill plateau.'
'World-class acoustics and technology were a priority,' Samuel Nappi offers. 'WSDG's track record was exceptional. Our initial meeting with John Storyk convinced us that he had the skill set to create a unique studio. Our maiden session was a date for The Syracuse Symphony. Everyone, from engineer Stuart White to the musicians was impressed with the studios' sound, look and functionality. It has surpassed all our expectations.
'Our studio was designed to accommodate a particularly diverse list of projects, all with a social consciousness mindset,' he adds. 'We are currently producing a feature film based on the life of Martin Luther King Jr in conjunction with DreamWorks, Suzanne de Passe and Madison Jones. We are also co-producing a Broadway show based on the original Woodstock Festival with Michael Lang. And, two other musicals, Prometheus Bound with Steven (Spring Awakening) Sater and Serj (System Of A Down) Tankian, which just closed at the American Repertory Theater; and The Gift of the Magi with Sater and Burt Bacharach.'
More: www.wsdg.com