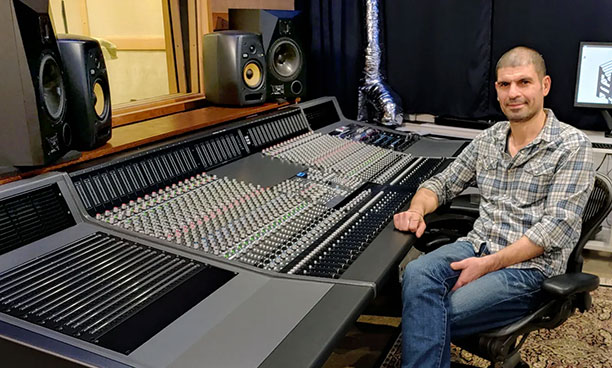 With a client list that includes Stefani Germanotta (Lady Gaga), Tiësto, Sheryl Crow, Norah Jones, Jessie J, Martin Garrix and Rashied Ali, the arrival of a 32-channel SSL Origin mixing console at New Record Studios in New Jersey realises owner Rubin Nizri's long-standing ambition to own a Solid State Logic desk.
'This is the sound I've been hearing since my childhood,' he confesses.
Sound engineer, producer and professional drummer Nizri established his New Record Studios business in New York City in 1999, relocating to New Jersey in 2014 for the next stage in its growth. With SSL G+ and J Series consoles perpetually beyond Nizri's budget, the 2019 launch of the all-analogue Origin desk – which combines a modern feature set tailored for digital production with the company's classic console designs – came as a godsend.
'I've been a huge fan of SSL for a many, many years. I don't know how SSL do it, but they get that warm, round, thick sound,' he says.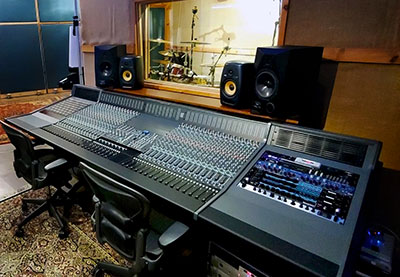 One particularly appealing feature of the new Origin, Nizri says, is the fact that it includes the traditional four-band parametric equaliser section originally featured in the E Series console – popularly known as the Black EQ – on every channel. 'It's really flexible,' he says. 'I love the in-line design; that makes it really comfortable to work on.'
Benefitting from advances in technology, Origin has numerous advantages over some older desks. As the owner of a smaller facility, Nizri says he would most likely need to upgrade his air conditioning and see his electricity bills skyrocket as a result of installing an older console. 'Some of the features that drew me to the Origin were the fact that it doesn't take a lot of electricity,' he confirms. 'I can put it to sleep and I don't have to cool the room.'
Nizri built his own studio furniture at New Record, and was inspired by the SSL Origin recently installed at Republic Records Studios in Los Angeles to add custom rack bays at each side of his new desk. 'I couldn't shell out any more money, so I took my tools out and built some wings,' he says.
He was initially concerned that the Origin would not offer the flexibility that he had become accustomed to with his previous digital mixing console. 'I'm one of those geeks who, before I buy something, I read the manual to see what works and what doesn't. I was blown away, and figured, I'll try and go for the board. I have to bring the studio into the future.'
The outboard equipment racks at New Record also house a pair of SSL XLogic Alpha-Link Madi AX converters. Nizri started out on MotU's workstation platform before switching to Cubase. 'Two-inch tape was never an option for me, financially. I do have Pro Tools, if a client insists, but my workflow is way more comfortable with Cubase.'
After moving to New York City in the early-1990s, Nizri opened New Record Studios in a former church on Manhattan's Upper West Side. Following a two-year search, he relocated to Jersey City to open the new facility in the former A&P Warehouse in Jersey City's Powerhouse Arts District. For many years, he was also the live recording engineer at The Cutting Room, a rock club and lounge on East 32nd Street in Manhattan, where he also designed the sound system and acoustics. 'The Cutting Room got me a lot of work,' he says. 'It was a good connection to have.'
Referencing artists such as The Police, Sting and Hugh Padgham's work in addition to Peter Gabriel and Genesis, Nizri says, 'I grew up in Israel listening mostly to English music.'
Even though he equipped New Record with a digital desk and racks of outboard equipment, he says, 'I still didn't get the sound that I wanted, although I was able to create my own sound with it.'
After connecting up the Origin and listening to it for the first time, he says, 'I was absolutely blown away.'
More: www.solidstatelogic.com