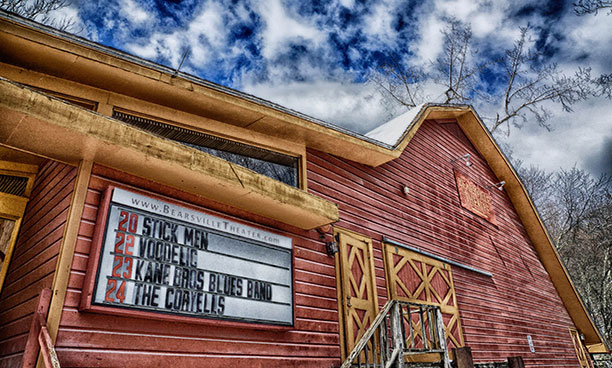 Originally intended by music impresario Albert Grossman as a showcase for his artists – among them Bob Dylan, The Band and Janis Joplin – the Bearsville Theater is equally historically important and well-known. Grossman founded the Bearsville creative complex in the 1970s in Woodstock, but died before the theatre's completion leaving his widow Sally to see it through to completion in 1989.
'Woodstock holds a special place in music history, starting with the Sound-Outs of the 1960s that inspired the Woodstock Festival,' explains new owner Lizzie Vann. 'It's an amazing place, just two hours from New York City, and Albert really created the renown of today's Woodstock by building the Bearsville complex here. We're excited to bring Bearsville Theater into the musical heartbeat of the region again.'
The John Storyk-designed theatre remains part of a complex that includes restaurants, residences, the Utopia production studio, and a recording studio. The Rolling Stones, Isley Brothers, Ozzy Osbourne, REM, Peter Tosh, Phish, Dave Matthews Band, and many others recorded at the studio. Todd Rundgren produced MTV's earliest music videos in the Utopia production studio. In addition to most of the acts above, The Pretenders, Blondie, Bob Weir, Paul Butterfield, and countless others graced the stage of the Bearsville Theater. Now, with a point-source Danley Sound Labs loudspeaker system installed, it will reopen sounding better than ever before.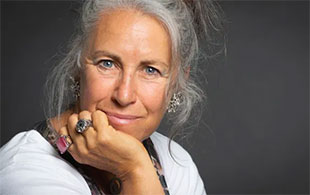 'The property was an old farm, and the theatre is built into the barn,' says Robert Frazza, veteran live sound engineer [Todd Rundgren, Adrian Belew, ABBA] and 30-plus year Woodstock resident and Bearsville Theater engineer. Albert brought in John Storyk to make sure the acoustics were outstanding, and even with a terrible reinforcement system, it's a great-sounding room. With the new Danley system, it's blowing everyone away.'
The new system found its way into the Bearsville Theater via Stan Denis and his Albany-based production company, the Denis Entertainment Group. Frazza had used Denis's portable SM80 and TH118XL rig for Woodstock-area shows to mix Orleans, Tony Levin's Stick Men and Phil Keaggy. 'My Danley rig is famous for showing up, getting deployed in minutes, and then provoking the question, "will it be enough?".' Denis says. 'They always ask because the SM80s look so small compared to the inefficient conventional boxes that they're used to. Then I fire it up and not only is it plenty loud enough, it sounds way better than what they're used to.'
Frazza knew different tops would be needed at the Bearsville Theater, so Denis worked with Danley's Skip Welch to arrange a demo of the SH46 full-range loudspeaker together with TH118XL subwoofers in the theatre itself.
'Danley boxes are uniquely musical,' Denis says. 'It's a hard thing to put into words. There's plenty of high end and plenty of mids, but they're not harsh at all. Vocals sound like they're singing in your ear. The SPLs are unbelievable, but what's even more impressive is the dynamic headroom and evenness across the frequency range. As a live sound engineer, you're not constrained to work around problems – it's a lot like mixing in the studio.'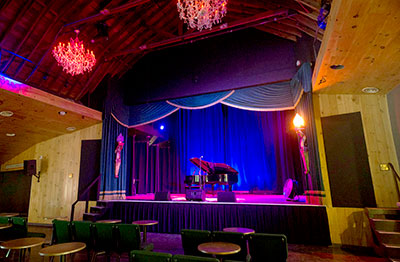 Vann was happy that Frazza was happy, but she was also pleased with the price tag. 'Not only do Danley rigs sound amazing up against anything else in the world, they're outrageously good for their price,' Denis says. 'Danley has allowed me to be extremely competitive; if a potential client gives me a shot, the job is ours to have.'
A stereo pair of SH46s cover the 400-capacity room, supported by four TH118XL subwoofers. A single, four-channel DNA 20k4 Pro 20kW amplifier powers the entire system: one channel each for each SH46, two central TH118XLs together on channel three, and two flanking TH118XLs together on channel four. Denis used Danley's onboard DSP and presets as starting points during commissioning.
Importantly, Frazza likes to run his full-range boxes as if there were no subwoofers in the system, so Denis set the SH46s' high-pass filters to match the 75Hz response of the speakers themselves, and mixes in the subs as needed. To round things out, a pair of Danley GO2 8CX full-range loudspeakers provide front fill when needed from movable positions at the front lip of the stage.
On the basis that that any acts that are particular about the choice of console will travel with their own, Denis installed a workhorse Midas M32 since most engineers are already familiar with it.
Two additional stereo pairs of GO2 8CX cover the bar, where patrons get an amazing view of the stage through angled glass windows. They are slightly delayed so as to synch perfectly with the low end coming from the TH118XL subwoofers fifty feet away.
Storyk had been back to the Bearsville Theater only two weeks before the Danley system commissioning. 'The commissioning was another one of my joyous "Danley moments",' Denis says. 'It exceeded everyone's, already high, expectations, and everyone is thrilled with the results. Like it was in its heyday, the Bearsville Theater will be the place that everybody wants to play between New York City and Syracuse or Buffalo. It will be the kind of place you have to play… just so you can say that you played there.'
'Everyone in the area is excited about the Bearsville Theater reopening, and they want to get involved,' Vann confirms. 'We're talking with people about getting a great series of concerts on the go, about music education opportunities, artist residencies, even using our centre here for recording and pre-tour rehearsals.'
More: www.danleysoundlabs.com