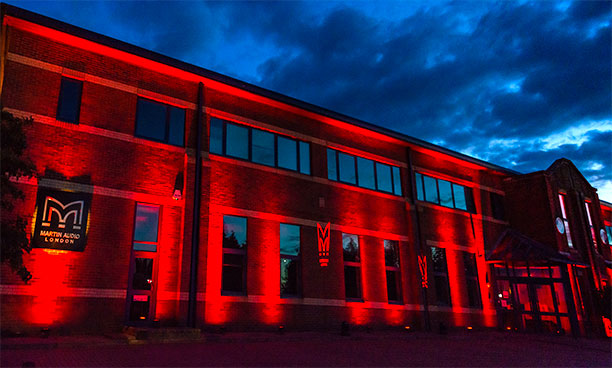 Among the 700 buildings of every kind across the UK lit up in 'emergency red' to amplify the voice of the event and entertainment industry as part of Monday night's #LightItInRed campaign was Martin Audio's UK HQ.
'The live events industry is on a precipice,' says Martin Audio MD, Dom Harter. 'Unless it receives urgent funding to safeguard its future, the shockwave of the resulting collapse will impact hundreds of thousands of jobs in businesses up and down the country and ultimately have a significant detrimental impact on the events culture of Great Britain.'
Since early March, the UK events industry has been almost without work. The Covid-19 crisis has taken corporate events, conferences, concerts, festivals, weddings, trade shows, theatrical performances and other events off the table, leaving an entire industry dormant, with more than 25,000 businesses and over half a million workers throughout the UK directly suffering as a consequence.
While the recent UK Government support for arts and venues has been welcomed, more direct support for our sector is needed to safeguard many thousands of livelihoods and the industry of which we are all deeply proud.
'We continue to support all industry parties and partners in this fight,' Harter adds. 'I would also like to offer my thanks to Nigel Meddemmen, our in-house lighting specialist, and Sophie Hoult for her stunning photography of our headquarters.'
More: www.martin-audio.com