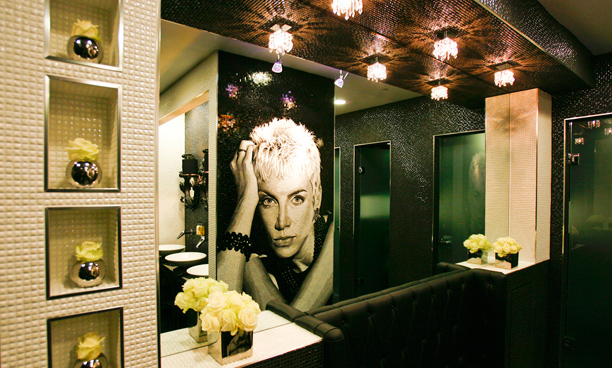 Recognised around the world as the home of UK Premiership football club Chelsea FC, Stamford Bridge stadium is also the setting for a new London live music venue. Named Under The Bridge, the 600-capacity venue is set to host a wide range of music, including artist showcases, record launches and festivals.
Inside, 66 QSC PowerLight 3 class-D amplifiers (largest single installation of PL3 amplifiers to date ) drive an EAW loudspeaker system, with Yamaha PM5D mixing desks stationed at both FOH and monitor city, and a BSS London Blu digital routing system in control.
Previously the Purple Nightclub, the venue's new interior was created by Jim Cafarelli (of House of Blues fame) while the successful tender for the turnkey technology design and installation was submitted by XL Video's Ian Woodall, in conjunction with Andrew Frengley of Matrix 9. They have worked together in the past, and both have extensive experience of EAW systems and QSC amplifiers in touring and installed applications.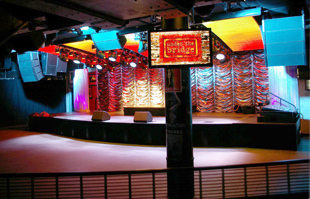 An off-the-peg main PA system wasn't on the cards: 'What we really needed was an EAW KF730 system on steroids,' says Woodall, referring to the company's small-format line array. They headed to Frankfurt's Pro Light & Sound to request desgn guru Kenton Forsythe to develope a custom KF740, with additional drivers. The KF740 ended up being a prototype for the system that is now commercially in production (the CFC-740 badge bearing testament to the fact that the originals were destined for Chelsea Football Club).
Featuring four phase-aligned 10-inch woofers (double the complement found in the KF730) the new KF740 remains lightweight and compact while also incorporating two 8in horn-loaded cones and two 1.4-in exit, 2.5-in horn-loaded voice coil compression drivers. Driven three-way, this exhibits exceptional pattern control, further enhanced with EAW's proprietary Focusing and Resolution software.
These have been designed into a flown LCR system (4+2+4) to take account of the venue's extreme width. 'We hadn't even heard them when we first fired them up, but as the venue is so short and wide it was important to keep as much energy up in the air as possible' Woodall says.
But this is only one piece of a system that uses nearly 80 enclosures in total. Low-frequency support comes from six EAW SB1000 subs on individual sends under the stage apron. 'As the stage is arranged an arc, and the subs are staggered and offset, we can delay them individually and achieve greater control,' says Woodall.
Main system stage right out fills are provided by four KF730 elements, with further KF695 covering the stairs on stage left. EAW's KF850/SB330 provides stage fills (upstage and downstage). A pair of EAW JF80s adds sparkle to the more enthusiastic stage-huggers in the mosh pit. Elsewhere large quantities of MK2396 and JF80s provide further delay coverage. On stage, bands can call on as many as 16 low-profile EAW MW15 MicroWedge 15 floor monitors. There is even a pair of EAW MicroSubs for drummers.
Such was the expectation and attention to detail of a venue, that Shure Distribution UK needed to participate in a shoot-out against other amplifier brands to get the QSCs specified. 'Knowing that there would be five 42U-high drive racks, alongside other technical racks, in a combined space, we were concerned about the heat output – and it was the heat dissipation of the PL3s that firstly impressed,' Woodall confirms.
'In addition to the performance, the other key issue was that the PL3's are light weight – and that impacted heavily on the load-in.'
In fact, the contractors constructed a reinforced lift to bring all the equipment in.
Driving the PA, monitor and surround loudspeakers is a combination of 23 PL380 (2 x 4kW/2Ω), 31 PL340 (2 x 2kW/2Ω) and 12 PL325 (2 x 1250W/2Ω). QSC gave high priority to cooling issues when designing the PL3, developing a 'flow-thru' air path and solid aluminum heat sinks. QSC claims that back-to-front airflow delivers up to twice as much long-term average power as most of its competitors, without releasing hot air into the rack.
The club uses a BSS London Blu digital routing set-up, which switches the venue to a 'surround' preset (from the main EAW FOH set-up), bringing 54 tiny Meyer Sound MM4s at the back of the venue into play.
A Yamaha PM5D is stationed at both FOH and monitor city and there is a selection of wired and radio microphones from Shure, Sennheiser and Neumann (with Shure and Sennheiser IEMs). These include Shure Beta mics plus 12 channels of Shure UHF-R wireless mic systems with Beta 58 handhelds, and wireless lapels; six channels of Shure PSM900 in-ear monitoring systems and three hardwired PSM600 systems – all with flagship SE535 earphones. Sennheiser provided various instrument mics, plus six channels of SKM 2000 series radio mic system and EK2000/SR2050 IEM.
The spec also includes infrared equipment for the hard of hearing (in the form of two SI 30 infrared modulator/radiators), which complies with DDA legislation as does the ramp accesses (neither the disabled, visually impaired nor the production crews will need to contend with stairs).
With its highly-specified Green Room, alcove seating and rock photograph memorabilia lining the walls — and brilliant mosaics in the rest rooms – venue Creative Manager, Alan Tenenbaum, expects this to quickly become established on the London landscape.