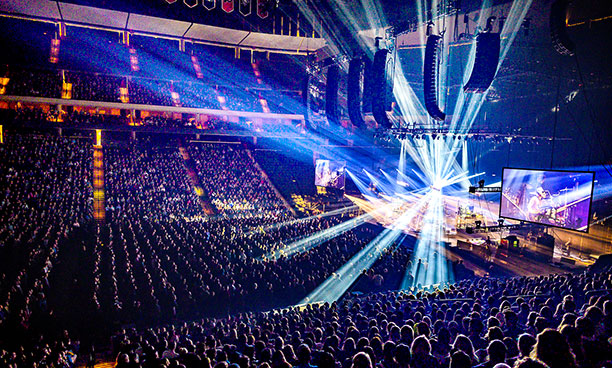 American idie folk band Bon Iver supported the release of their recent studio album, i,i, with a tour of arenas in select North American cities, with Red Hook, New York-based Firehouse Productions supplying a DiGiCo/L-Acoustics K2 and Kara PA system. The second leg of the tour also saw Firehouse add of Hyperreal Sound technology to the mix.
According to Firehouse Productions Account Rep Chris Russo, the tour's L-ISA configuration featured three central arrays each composed of 16 K2 plus three Kara down, flanked to the left and right by hangs of 24 Kara as the Scene system, which extended over the full width of the stage. Farther out to the left and right, two per side, 12-enclosure Kara arrays served as the Extension system, while two fill arrays of 12 K2 expanded out fill coverage to 180° of seating.
Two hangs of ten KS28 each were flown in close proximity to the centre K2 arrays providing LF coverage, while three ARCS II per side down below were used for near field out fills and six Kara were lined across the stage for front fill. Fifty-two LA12X amplified controllers powered the system, and four new Milan-certified P1 AVB processors plus a pair of L-ISA Processors rounded out the L-Acoustics system complement.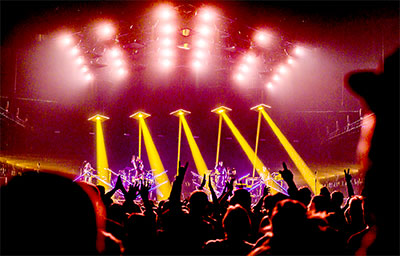 Although Bon Iver FOH Engineer Xandy Whitesel had mixed using L-ISA technology for a one-off show with the band at the Santa Barbara Bowl a couple of years ago, this was his first opportunity to tour with the set-up.
'Andrew Gilchrest, our system tech, and I found that the mix image and tonality represented at FOH was very consistent and natural-sounding throughout each venue with L-ISA,' he says. 'Even the far seats of the arenas sounded fantastic, as did the extreme left and right sides of the main floor where the L-ISA coverage very transparently transitioned over to the out fill coverage. There was no low/mid 'wonk' from seat-to-seat – it was all very clean and consistent – and there was also a noticeable attenuation of low end bleeding back onto the stage, which allowed the band to enjoy more precise in-ear mixes.'
Drawing on material from Bon Iver's full catalogue, the two-hour show was performed by two drummers/percussionists and four multi-instrumentalists/vocalists, generating 95 inputs from the stage, not including guests, talk mics and local channels. All musicians were on hard-wired IEMs, eliminating the need for stage wedges. Front-of-house and monitor positions both featured DiGiCo Quantum 7 consoles, and Whitesel's desk fed the L-ISA Processor via direct outs from each channel.
Whitesel points out that his approach was to avoid 'glitz', at least from a sound reinforcement perspective, so he made judicious use of the L-ISA technology's vast potential. 'The band's music is generally complex enough, so there's no need to add fanciness to make it interesting,' he says. 'We did use some dynamic movement of elements in a couple of the songs that really invited it, but our goal for L-ISA was to enable a quality and consistent immersive experience for the audience to more fully engage with the music – not to be distracted by the sound – and we absolutely achieved that. It was very apparent that audiences were stoked and totally engaged.'
Firehouse's Russo agrees: 'The L-ISA technology definitely widens the sweet spot typically only found at or around FOH and a thin slice up the centre. Xandy did a great job using all of the technology's resources. His mix was well balanced and dynamic, and the technology gave him a much wider canvas to paint on, which enhanced other show elements. L-ISA increased the resolution of Xandy's already detailed mix, which deepened the audience's connection with the band and their music, in turn making for an exceptional experience.'