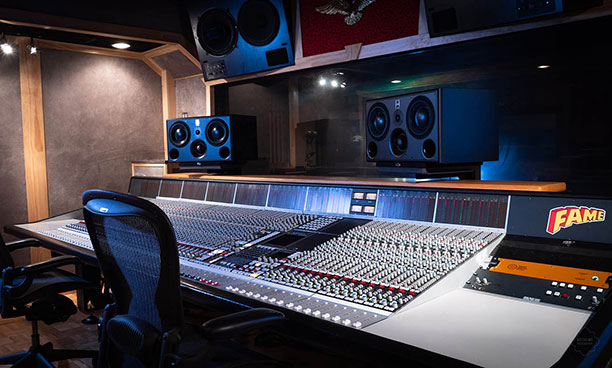 Having been in continuous service since it opened, Fame Studios in Muscle Shoals, Alabama, recently completed an update of its control room of Studio B with structural changes, new equipment and ATC SCM45A monitors.
Built in the 1960s by Rick Hall, Fame Studios in Muscle Shoals, Alabama, was the first and most prominent studio to curate the Muscle Shoals Sound, a unique and ultimately ineffable combination of country, gospel, rock, and soul. Listed in the US National Register of Historic Places. The studio hosted Aretha Franklin, Clarence Carter, Otis Redding, Wilson Pickett, Gregg Allman, and countless others who shaped the face of modern music.
Rick Hall built Studio B in 1967 in response to overwhelming demand for time in Studio A. Early incarnations of what would become The Allman Brothers Band put Studio B through its paces immediately after its completion. Hits recorded in Studio B include 'Hey Joe' by Wilson Pickett and 'Greenwood Mississippi' by Little Richard. Studio B also hosted Jimi Hendrix, who recorded the song 'Mojo Man' here.
'Fame's Studio B is one of the finest live rooms anywhere,' says Grammy Award-winning producer and engineer Glenn Rosenstein, who has worked with the likes of U2, George Clinton and Talking Heads. 'I discovered this about a year-and-a-half ago, when I was cutting vocals in B with Whitney Woerz for my record label, 600 Volt/Sony. Rodney [Hall, Rick's son, who handles Fame operations] dropped in, I told him I was getting some of the best vocal sounds I had ever heard, despite the fact that the control room equipment was average. How was this gem of a studio not being used more frequently?'
Despite the fact that Rosenstein has a studio in Nashville and two home studios near Muscle Shoals, he felt compelled to partner with Rodney Hall and Fame to help bring Studio B to the glory it deserved. 'The control room was small and needed to be refreshed,' he says. 'Its original UA console had been loaned to the Alabama Music Hall of Fame, and there was a control surface in its place. The next thing I knew, Rodney and I were pulling down walls to expand the size of the control room. We contacted Paul Savasta at Odyssey Pro Sound to broker our console purchase – he found us Stevie Ray Vaughan's SSL 6000 E Series. We are in the process of restoring the original UA console to serve as a sidecar. Most importantly, we didn't touch the live room.
'It was like archeology, pulling off walls that had been built on top of walls. Many of the surfaces hadn't been exposed in over 50 years. There were a lot of smart design elements that we used to our advantage, and the room now competes with the best of modern acoustic design.'
'I've had people ask what my dad think of this renovation… I'm sure he'd love it,' Shaw says. 'He was always changing things, always updating equipment and aesthetics. We even outfitted a private lounge attached to the control room that had previously been a tape vault. So, it's got a really cool vibe. You can hang out in there with the Otis Redding masters.'
The choice of monitors was not a difficult one for the team: 'I've used virtually every high-end monitor available, and ATCs always speak to me,' Rosenstein says. 'In this room, we're treading lightly on the shoulders of greatness – if we're going to equip the studio with the kind of gear that represents that kind of legacy, then ATC monitoring was a natural choice.
'I know that ATCs are an amazing draw that make a clear statement about the caliber of this room. Moreover, we were careful not to pigeonhole Studio B in any particular genre. We wanted a fully-modern room capable of delivering on the Muscle Shoals sound, sure, but also on anything else – EDM, pop, country, you name it. ATCs cut across genres because they reveal a true picture of the work.
'To go from being a young fan of the Muscle Shoals sound to now having some partnership in its most iconic studio… I never would have guessed that would be possible. But here we are, and here we go.'
More: www.transaudiogroup.com