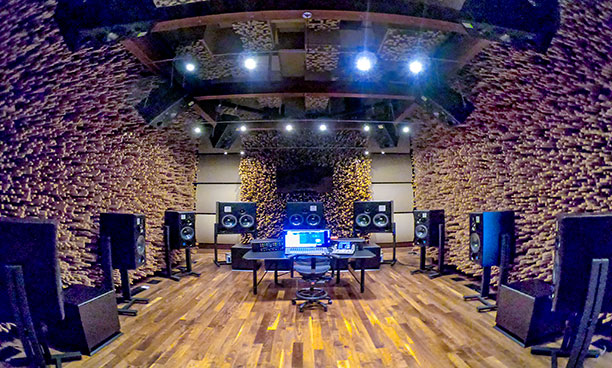 Nashville's Blackbird Studio recording studio complex has added a new Dolby Atmos 9.1.6 reference room – Studio C is fitted out with equipment that includes ATC SCM300ASL Pro speakers (LCR), ATC SCM100ASL Pro speakers (six top and six side) and ATC SCM1-15ASL Sub subs (four front, two rear/side); Avid Pro Tools MTRX audio interfaces; an Antelope Audio 10MX rubidium atomic master clock and Avid Pro Tools SyncHD.
Blackbird Studio C is currently among the finest Dolby Atmos mix and playback environments in the world.
The open floor plan concept room for Studio C was originally designed by multiple Grammy and TEC Award-winner, producer, engineer and inventor George Massenburg and Dr Peter D'Antonio, founder of RPG Diffusor Systems. The design of the room was created from a 10,000-page Excel spreadsheet and is based on acoustic diffusion algorithms: 138,646 individual sticks of formaldehyde-free MDF wood in 4ftx 8ft sheets, with no two being the same size or length. The room contains slightly more than 100,000 lbs of wood on the walls.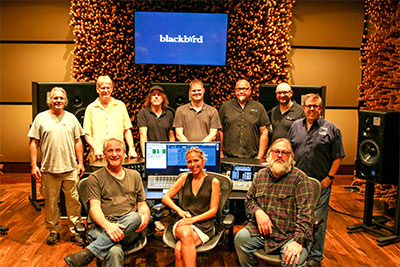 'Blackbird has always had an extremely high bar that doesn't allow us to cut any corners in anything we do,' says Blackbird founder John McBride. 'So when it came time to create this unique mixing/listening space, we reached out to the companies I know and have worked with, whom I trust based on their knowledge, their products and their track record for getting the job done. The team that helped create this reference room represents the cream of the crop, and we could not have made this a reality without their unwavering support.'
'John McBride changed the industry with Blackbird, and now he's done it again with the one and only all-ATC Dolby Atmos mix room in the country,' says TransAmerica Audio Group President, Brad Lunde, the exclusive US distributor of ATC loudspeakers. 'ATC and TransAudio could not be more pleased to be part of this project. The excitement in experiencing Dolby Atmos through some of the best music tracks ever created was a moment everyone present at this premiere will never forget. I think with the addition of the Blackbird Studio C, music in Dolby Atmos is poised to impact the industry in a very big way.'
'Very soon after I started to mix in 5.1 new challenges were quickly revealed,' says Massenburg. 'Hearing' a complex multichannel mix required fresh skills; yes, localisation is important, but maintaining the perception of the overall context and integrating sources also in the sound field was challenging – I felt a new kind of mix environment was (and still is) essential – I never stopped thinking about it. I was given the opportunity to build a massively diffuse, uniform-response room in the early 2000's to address these issues, and Blackbird Studio C was born. More than just a multichannel mix room, it offered an ideal context and environment to record live acoustic ensembles, providing artists an unparalleled ability to hear each other really well. Recently outfitted with Dolby Atmos Music monitoring technology, Blackbird Studio C now provides mixers with the tools to inspire them to create extraordinary and breathtaking immersive music mixes.'
'Dolby Atmos is redefining how music is heard,' offers Christine Thomas, Senior Director of Music Partnerships at Dolby Laboratories. 'Together with Blackbird, we are empowering artists to bring their music to life.'
'I love what we created in Studio C with Dolby Atmos,' McBride adds. 'Because of the design and acoustics of that room, and of course the Dolby Atmos system, I have a new energy about mixing and can't wait to spend more and more time in C. It was nice to hear from so many people who attended our event how great they thought the audio sounded – to get that kind of acknowledgement from leading industry pros means a lot. We have already had tremendous interest in booking the room, and I'm excited to hear what comes out of those sessions.'
More: www.blackbirdstudio.com