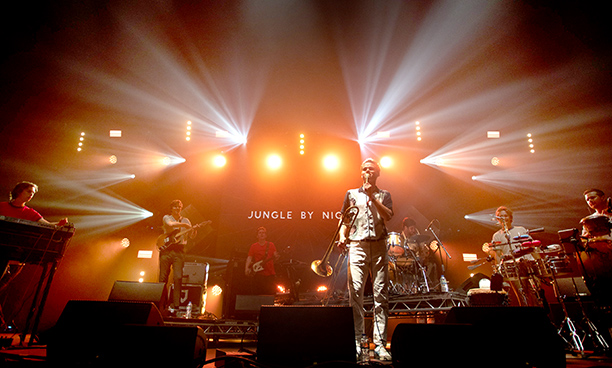 The 2019 Womad Festival again gave its UK audience an enhanced live sound experience with its use of d&b audiotechnik's Soundscape. The set-up equally served the dynamic range of programme, touring FOH engineers, artists and musically inquisitive audiences.
The d&b Soundscape stage is the result of a relationship between Real World Records – the music label owned by the founder of Womad, Peter Gabriel – and the d&b team. Born from a mutual ambition to enhance the sound experience at Womad for both artist and audience, using a d&b Soundscape system. The stage featured performances from Saving Grace with Robert Plant, DJ LTJ Bukem, Kenya's Muthoni Drummer Queen, and the 'dirty funk swampy grime' of Roosevelt Collier.
Prominently positioned within the main arena site in Charlton Park in Wiltshire, the Soundscape stage held capacity audiences of more than 4,000 people, and was created to galvanise Womad's mission to be the 'best sounding festival' featuring 'the best music you've never heard', and curated to give acts from around the world a space to showcase their landscape of genre-diverse sounds.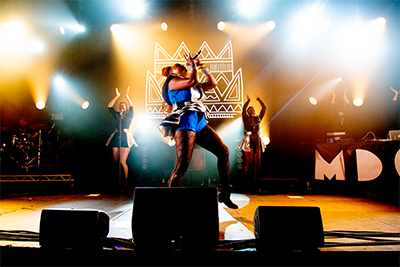 'This stage was special, because of the incredible sound experience that was created,' says, Festival Director, Chris Smith. 'Womad is a festival for music lovers, but it is also about innovation in music and technology and now we have one of the finest sound systems in the world.'
The stage set-up used d&b V10P loudspeakers for the main system, and Y10P loudspeakers at regular intervals around the tent, which was more than 60m across. d&b E8s were used as front fill with a sub array of V-Subs and SL-Subs. The system was driven by 18 d&b D80 amplifiers.
The d&b DS100 signal engine, the network-controlled, Dante-enabled DSP platform for Soundscape, served all of the object based mixing, room acoustic emulations and system matrix functions, and was interfaced with the array of different console surfaces required for the busy festival environment. This was all integrated with the d&b R1 Remote control software and a Soundscape touchscreen, facilitating simple operation to enhance the mix graphically, channel by channel, loudspeaker by loudspeaker, group by group.
While mostly invisible within the tent set-up, the system delivered significant SPL with a wide-screen, high-definition sound that was able to be driven by each of the touring engineers to suit their needs, whether fully immersive 360° or using 180° focused frontal arrays only.
'Our relationship with Womad allows us to offer international artists and engineers exposure to a system concept that is changing the nature of the way sound can be delivered for events of all scales, programs and purposes,' says d&b UK MD, Stephen 'Oggi' Hogg. 'Combining the creativity of the performers with the flexibility of the sound design inspires a whole new dimension of experience for the festival.'
More: www.dbaudio.com