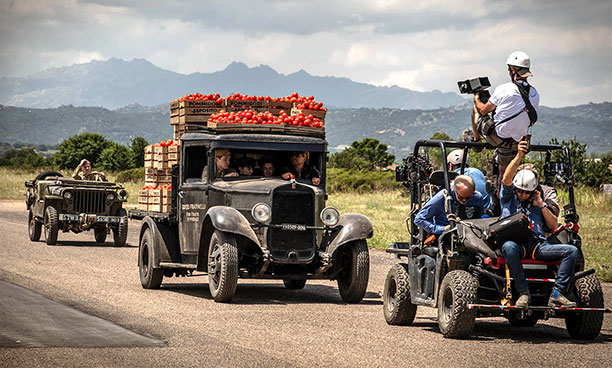 Responsible for the production sound for the Hulu miniseries adaptation of Joseph Heller's Catch 22, sound designer Maurizio Argentieri decamped to the old Olbia Airport (Venafiorita) in Sardinia to capture gritty ambient sounds together with highly-intelligible dialogue, and also to deliver pre-fader tracks and immediate mixes for various purposes. After updating his Metric Halo interfaces – a five-year-old ULN-8 and 15-year-old 2882 – to work with via Metric Halo's 3d hardware, he had 16 analogue inputs, eight digital inputs, and as many zero-latency output tracks and sub-mixes as he needed.
'I needed a powerful recording system that would allow me to record a large number of actors and a large number of ambient tracks and that would give me lots of mix-down capabilities on the fly,' he explains.
With more than 25 years in the business, Argentieri has recorded and mixed for Spike Lee, Ridley Scott, Mel Gibson and Woody Allen – now, having completed Catch 22, he can add George Clooney to his resumé.
'On set at an air force base meant there was always something going on around the actors, from airplanes to trucks to cars – even other actors screaming,' he says. 'The large number of tracks let me isolate individuals and sounds, and Metric Halo's vast DSP resources let me mix and compress for dailies and for examples of how I envisaged the mix for the postproduction team.'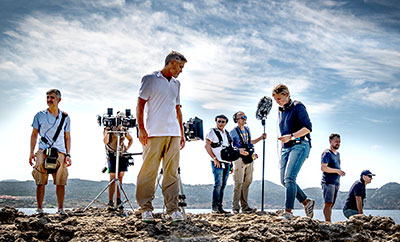 Metric Halo's recently-introduced 3d hardware upgrade allows users to combine up to 128 input tracks and 64 buses with zero latency, but the 3D public release came after Argentieri needed it.
'I talked to BJ Buchalter and Jon Stern at Metric Halo and described my situation,' he says. 'I knew 3d was coming and that it would fix any latency problems that might occur on a 2D system pushed to 32 tracks. They were kind enough to send me very early beta versions of 3D for my ULN-8 and 2882. I installed them and hoped for the best. We would be out on an air forcebase for six weeks and that's a very dusty, rugged situation for audio hardware. As it turns out, I didn't need to be worried. Although the display on my computer died, the Metric Halo 3d system was very stable and reliable. And that was an early beta.'
For most scenes, Argentieri recorded eight channels of Wisycom wireless microphones with digital AES3 outputs that could input via the ULN-8, various wireless microphones from Lectrosonics, and a custom double-M/S microphone suspension made by Cinela especially for this project comprising two DPA cardioid microphones and a Sennheiser MKH30 (fig-8) in a suspension and windscreen. The double M/S rig let him record surround effects in a true surround format.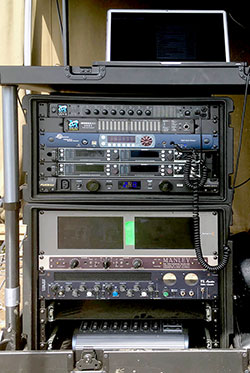 In addition to scenes and dialog, Argentieri recorded an entire library of original sound effects in a surround format, including B25 bombers and all the other aircraft idling, passing, taking off, etc. with the Metric Halo rig. Since the production took place in Olbia, the crew was able to organise a flight session dedicated only for sound recording. The Metric Halo rig was on the airplane along with custom contact mics to add a natural low-end sound. Jerry Ross, the sound supervisor, along with the sound post people at Warner Brothers, were pleased with this original sound character created for the movie.
'Another reason I like working with Metric Halo's software controller, MIO Console, is that it allows me to make multiple simultaneous mixes,' Argentieri notes. 'In addition to recording all of the tracks in their pure state for the postproduction team, I gave the film editor a rough mix that simulated the way I thought the final mix should go. It would help out as a guide.
'It was also important to give a rough mix for everyone watching the dailies, with some mastering done to bring the volume up to meet the expectations of people who are used to hearing mastered audio. For tricky situations, I used Metric Halo's DSP resources, including TransientControl. For example, when we shot interiors in Rome, there was too much reverb. I used TransientControl to change the decay of the transients and reduce the amount of reverb in a very natural way.'
'I would love to thank my team Andrea Dallimonti and Alberto Padoan as boom operators, and Samuele Grippo and Michela Cuppone as sound utility assistants. They helped us solve a lot of tricky situations in a very difficult location,' Argentieri adds.
More: www.mhlabs.com