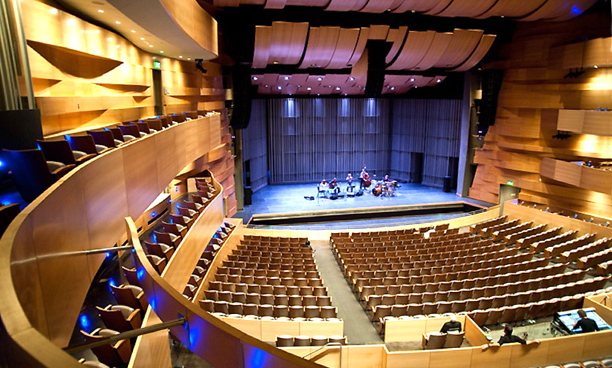 California State University's recently commissioned an equipment package for the Great Hall in its newly constructed US$125m Valley Performing Arts Center. The facility's 30,000 square feet of glass is matched by 30,000 feet of interior acoustical panels, 568 miles of internal wiring, a moveable orchestra platform and 622 floor diffusers used for soundless air conditioning.
Its front-of-house system was supplied and installed by Los Angeles-based Pro Sound and Video, and is centred on a JBL VerTec line array.
The main sound reinforcement system includes 29 JBL VerTec VT4888DP-DA DP Series mid-size powered line array elements equipped with JBL DrivePack technology and JBL's latest DPDA (DrivePack Digital Audio) input modules. The system is arranged in a left/centre/right configuration – arrays of 10 boxes on each side and a centre cluster of nine. These three arrays are augmented with two left/right arrays of four VT4882DP-DA mid-size arrayable subwoofers each. The system relies on BSS London signal processing for EQ, routing and zoning control. Additional JBL Control Contractor and AE Compact Series loudspeakers are distributed throughout the space, powered by Crown CTs Series amplifiers.
The combination of powered line arrays and passive loudspeaker fill and paging loudspeaker locations was specified by McKay Conant Hoover, media and acoustical system consultants. The sound system design gives the venue a great deal of flexibility, and the digitally-networked, powered DP Series enclosures enabled the Pro Sound and Video installation team to maximize efficiency for pre-installation and onsite configuration time.
'The high-resolution VerTec line array system allows the engineers at the Valley Performing Arts Center to use the sound in multiple configurations, which all perform great,' says Joe Byrne, Project Manager at Pro Sound and Video. 'The fine tuning was taken care of in a timely manner before our first event and the Great Hall has presented nothing but successful performances since opening. The overall sound in the hall is very smooth and the coverage is excellent. The VerTec line arrays seamlessly handle everything from spoken word to a rock show.'
The Valley Performing Arts Center includes the 1,700-seat Great Hall and a 178-seat experimental theatre, along with rehearsal space, classrooms and other areas. The centre hosts a diverse range of performing arts works, including symphonic orchestral music, dance, opera, theatre, jazz and pop music, as well as film screenings and lectures.
More: www.prosound.net
More: www.jblpro.com
More: www.crownaudio.com
More: www.dbxpro.com