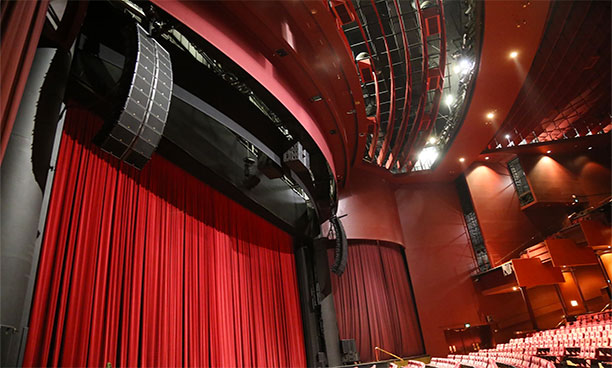 One of Western Australia's most prestigious musical and entertainment venues, the Crown Theatre Perth recently installed an L-Acoustics K2 PA system, with help from AAA Productions and Jands.'Specifying a full and permanent system was a natural move for Crown Theatre Perth,' says AAA Productions Director, Neil Campbell.
Located in Burswood, Western Australia, Crown Theatre Perth is part of Western Australia's Crown Perth integrated resort, which hosts international and national entertainment acts and cultural events, as well as musical productions including The Lion King, Aladdin the Musical, Matilda, and Mamma Mia!.
In 2017 Crown Theatre Perth made the decision to permanently install a high-end PA system to reinforce its reputation and increase commercial potential, calling on pro audio service provider and L-Acoustics Rental Partner, AAA Productions.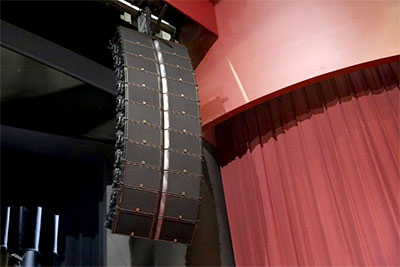 'We've had a long-standing and successful relationship with the venue – particularly with L-Acoustics rental – so the staff there were already familiar with the technology and with our own high standards of service and support,' Campbell says. 'It made sense for them to consider a complete and permanent sound reinforcement solution. This move can only help attract more international performers and productions, and further reinforce the theatre's high-end reputation.'
One of the main challenges was to overcome the restrictions on advance rigging positions and Safe Working Loads, prompting a 12-month research period to ensure all architectural challenges could be overcome. 'The K2's power-to-weight ratio proved to be a big advantage,' Campbell says. 'It's designed to hang where rigging limitations are tight, but where quality and coverage are still paramount.'
After a full year of planning and budgeting, the installation was completed in November 2018, and consists of two LR hangs of 11 L-Acoustics K2 line source elements, bolstered by eight KS28 subs as well as a centre fill of four Kiva II. Two stacks of three ARCS II are used for infill with two delay rings of six X8 each – one in the upper dress circle and one in the stalls. All elements are powered by LA12X amplified controllers whilst the whole system is network controlled and monitored via LA Network Manager.
The initial design for the new system was completed by Jordan Gibbs, Crown Theatre Perth's former Head Technical Operator for Audio along with Campbell and John Kerns from AAA. This was done using L-Acoustics Soundvision software. Head Technical Operator Audio Jason Brown installed the design with final calibration by Julien Laval, L-Acoustics Applications Engineer.
'It was important to make sure the system was perfectly suited to the space,' says Campbell. 'That would guarantee problem-free, exceptional quality sound reinforcement for every future production and audience member. We're very pleased with the result; the accuracy of the Soundvision predictions in frequency response and SPL coverage when compared with real world measurements is amazing.'
'Neil at AAA ensured that the theatre's staff were supported all the way through the process with regular communications during the research, technical, and purchase phases, liaising with us at Jands, and with continuing support for the client after the install,' says Gerry Gavros, Brand Manager for Jands.
The new K2 system is already working hard on a number of high-profile shows: 'It has radically improved the venue's sound quality and coverage and we have received incredible feedback from our clients and theatre guests,' says Crown Theatre Perth Technical Manager, Shona Treadgold. 'I'm certain that this system will ensure we continue to attract the high calibre of world-class performers and theatrical productions that Crown Theatre Perth has enjoyed to date.'
More: www.l-acoustics.com