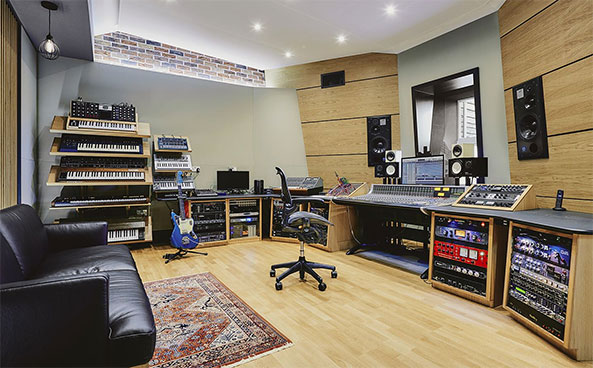 Having made a big splash with Ride during the 'shoegazing' period of British alt/rock during the late 1980s (and who reformed in 2014), frontman and guitarist Mark Gardener developed a strong interest in recording and studio production. Now, with Ride about to release a new album, Gardener has opened OX4, a multi-room studio facility in Oxfordshire, built by Studio Creations and with an SSL AWS 948 console as its centrepiece.
'It constantly surprises me, the Ride phenomenon,' Gardener muses. 'We did a big thing first time around, but now we are playing bigger shows than we ever did back in the day. But I always thought one day it would level off, so in the interim I got heavily into recording, trying to demystify the process of being in the studio. It's always been my thing, really.'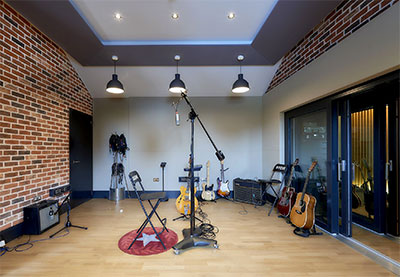 Gardener gained some valuable studio education during his journey working with John Leckie and Jack Rieley, the latter of whom became a guru to him.
'These guys were very good at teaching me to listen, as an art,' he says. 'And back in the day, when we were on the clock at Abbey Road, I'd knock out some rough mixes for Ride. It taught me to work under pressure, and that sometimes the first decisions you make can be the best ones. So now I am always very wary of going round in circles, as it can drain the life and energy out of a project.'
Gardener had worked a lot in-the-box, but found he was taking a long time to create, and find the sort of space and depth he needed in his mixes. He had 'lived' with SSLs during his recording career with Ride and his many other musical collaborations, so it was an obvious choice for his own studio.
'I love that mixing today you can get something to a point, walk away, and come back with fresh ears,' he says. 'Also bands won't get back to you in an hour; any requests for changes in a mix will come in a few days, so you need to be able to reset and refresh.
'I started using a summing mixer at home, and suddenly the width and depth helped speed up my mixing process. But it got me thinking that I really wanted a console, something I could be fully hands-on with and wouldn't have to work my way through the layers of. That's what first drew me to AWS console.'
A meeting at SSL HQ left Gardener impressed with what the AWS consoles are capable of, and he soon invested in an AWS 948. 'I quickly realised that SSL had totally nailed it in terms of understanding how people work today; in minutes, you've got a full recall on this desk, which is phenomenal' he says.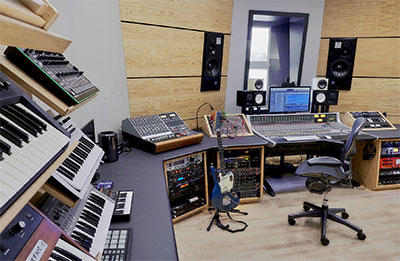 'And I am back to using channels – so the whole space and width thing is right there. Plus, it's way more fun when you can be tactile. I love how you can flick between the E and G EQs instantly, and it makes perfect sense, as before I got the console I was using plug-in versions of the SSL E and G channels – now I have the real thing.
'I am also astounded by its preamps. I have a lot of cool outboard kit, but recording directly from the SSL is amazing, as it's just an incredible sounding console. I love the old boards, of course, and a lot of Ride tracks were mixed on old SSLs, but the AWS is so much more efficient than an older console. The DAW integration using the delta-Control automation is also brilliant; I've got my console keys set up for Logic, and I've got all my transport stuff right there at the push of a button.'
As a result of having the AWS, Gardener is increasingly hands-on with the console, and is getting better results than ever: 'Just the familiarity of the EQ – having it literally there, rather than going into the layers, I just love. And as I work with the AWS console, I am definitely coming out of the box more, and this digital-analogue hybrid set up is basically a best of both worlds situation. I've found that my mixes are improving dramatically as a result of having the SSL, and having the G Buss as my final buss compressor is fantastic. I really love what it does.'
Sessions are now underway at OX4 – singer-songwriter Susie Stapleton was first through the doors, accompanied by Jim Jones Revue's Gavin Jay, and Stranglers' drummer, Jim Macaulay. The Stranglers themselves have been in the studio recording new material last month.
'I feel so fortunate to be working in a room like this, purpose-built by Studio Creations, where I can hear everything so perfectly, and I'm excited to see how the artists will respond in the coming projects' Gardener concludes. 'The SSL AWS is definitely the new love of my life – and by the end of the year our studio extension will be complete, comprising a second control room and more artist space. If we continue as we've started, then I can only see us growing more in the future.'