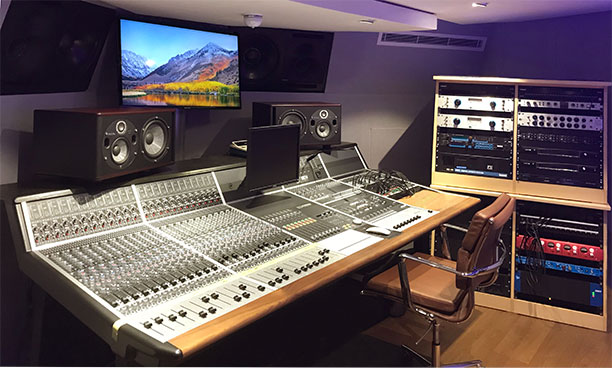 Kazbar systems recently completed design and construction of a new multi-room recording facility for English composer and music producer, Nicholas Lloyd-Webber – prompted by ongoing renovation at the Palace Theatre on London's Shaftsbury Avenue requiring him to find a long-term location for his facility.
Lloyd-Webber describes the five-room complex – which is now up and running – as 'incredibly flexible, whether for tracking, mixing or working to picture in all of the rooms at once or independently'. The fundamental requirement of the project was to provide the best use of available space, while maintaining a high level of sound isolation and acoustic accuracy.
Having previously been involved in the Palace Theatre studios, Kazbar Systems was first choice for the new build. The host structure is located on basement level with two adjoining smaller rooms and meeting room. This presented a number of challenges, including the close proximity to domestic and office accommodation, a steel smoke duct, and numerous water and sewerage pipes.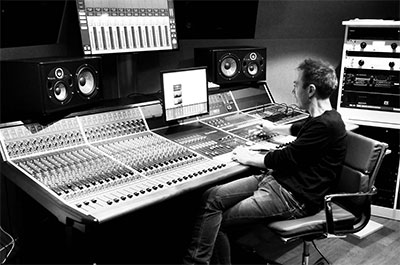 Kazbar Systems' in-house design team led by Dr Douglas Doherty, provided a number of layout schemes for review by the client. The final design provided an isolation booth within the control room and two smaller multi functional isolation booths that can be used as additional live rooms or as writing and production studios. The final design integrates fire protection, access control and security systems. For the studio's centrepiece, Lloyd-Webber decided on an Audient ASP8024 Heritage Edition analogue mixing console with DLC option for enhanced DAW control.
Already happy and well versed in Audient technology after using the 'classic' ASP8024 in his Palace Studio, his decision to upgrade to the flagship Heritage Edition console was an easy one. The addition of the Dual Layer Control module gives him enhanced and seamless integration with DAW.
There was initial concern as to whether the British desk – with 24 channels, DLC and patchbay – would be manoeuvrable around the tight corners in the space. Delivering the desk in two sections with the modules removed solved the access problem, and the console was reconstructed by Audient technicians on-site.
Accompanying the desk, Kazbar Systems recommended Genelec 1238A Smart Active Monitors for neutral monitoring at high sound pressure levels. The control room was specifically designed around the console and monitors to provide optimal symmetry and sonic accuracy.
Further recording hardware installed and supplied by Kazbar Systems included Focal Trio active studio speakers, two Universal Audio Apollo 16 MkII Thunderbolt interfaces, a Kahayan 12K72 dual mic preamp, a TK Audio BC1 stereo compressor, two Neumann U87 Studio Set Microphones, two Latchlake Mic King 1100 heavy-duty microphone stands and various mic stands and music stands. To add a 'close mic' recording sound, we also supplied two Kaotica Eyeball Microphone Shields.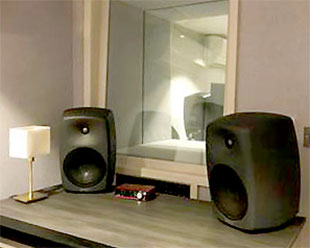 Once the studio construction had been completed, the Kazbar team began onsite installation of equipment and cabling. This included the commissioning of the Audient console, the installation of the soffit-mounted Genelec monitors, the DAW system, and outboard equipment and patchbays. Genelec product specialist Andy Bensley optimised the performance of the monitors using the Smart Active Monitor system, and found the control room to have a particularly flat response.
Offsite at Kazbar's Bedford HQ, Technical Assistant Oda Holm Strand installed and soak tested the Mac Pro host computer including Avid Pro Tools Ultimate, Waves Diamond Bundle, Sonnox Elite Bundle, Native Instruments Komplete and Arturia V Collection 6. Four LCDs were also supplied and installed – one 50-inch Samsung main display, two further Samsung 30-inch displays, and a Samsung 19-inch display that is Vesa-mounted to the Audient ASP8024 Console.
Kazbar supplied two custom-built dual 24U racks for the control room, which are mounted above each other. In Booth 2 is a Zaor Miza 61 Studio Workstation, and in Booth 3, a Miza Junior Work surface. Lloyd-Webber also brought equipment from his previous studio, which includes two Summit TLA 100 limiters, a Summit EQP-200B stereo EQ, Lexicon PCM70, PCM 90 and PCM480L digital reverbs, and a Focusrite Red 1 four-channel mic preamp – all of which were included in the patchbay and cabling design.
The cabling specification includes analogue, digital, video and data ties to each area, including USB, Cat6 and HDMI. This allows video to be sent to any area within the complex, and each area to be used either independently, or simultaneously for larger and more demanding sessions.
Custom connection panels were designed and installed into the control room and isolation booths; Booth 2 and 3 interconnect, so that they can function as an additional independent self-contained control room and isolation booth. Connection plates for surround speakers were also installed into the control room.
Sound transmission tests were conducted between the control room and isolation booths and the entire studio complex and residential areas. All specified isolation values were either met or exceeded by Kazbar Systems.
Dave Eccleston, Kazbar Systems Technical and Project Manager managed all aspects of the day-to-day construction and scheduling of the project, liaising with the client, the designer, the Kazbar build team and client direct contractors to ensure the project ran smoothly and was delivered within budget. Eccleston has since returned to the studio to provide one-to-one training to the in-house engineering team and Lloyd-Webber, to ensure that the commercial operation of the studio runs efficiently and productively.