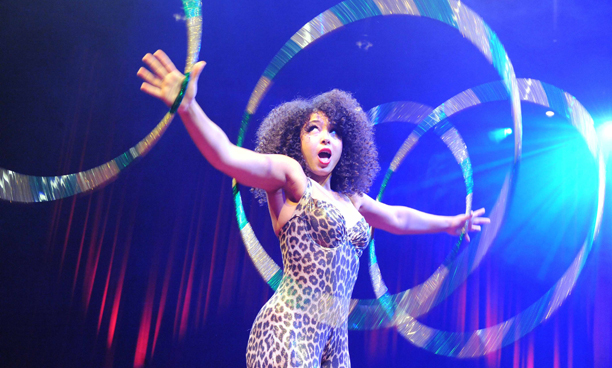 A fusion of cabaret, new burlesque, circus sideshow and contemporary vaudeville, the La Soirée show is moving from the South Bank Big Top to Sweden prior to a return to London later in the year. With it, goes a sound has to accommodate 23 eclectic acts performing in a circus-style tent.
Sound and communication systems specialist Orbital Sound was responsible for the show's sound design and system supply, working with Production Manager Dan Watkins to overcome this and a number of other challenges.
'We needed to have a central truss to fire the speakers from,' says Orbital's Davy Ogilvy, who handled the sound design. 'With only a single point to hang from, this made weight a very real issue – as the same point is used for some of the acts during the show. We elected to use four of the d&b audiotechnik E12 multi-purpose cabinets as the main system, as they weigh in at just 11kg each and combine compactness with great directivity control, good bass response and high sound levels. Under the small circular stage, we managed to shoe-horn four E12x subs and four E0s as front fills, complemented by ten C180s as delays sited around the outer ring of the tent.'
With the show changing on a regular basis, and with two main performance areas, Ogilvy and the sound team designed the show so that various scenes are saved to the show's Yamaha LS9-16 mixing console. These scenes can then be triggered by hotkeys to align the system to wherever the performance comes from. Orbital's acoustic consultancy skills were also put to the test on this project, as there were major concerns about the show from a nearby apartment block.
No strangers to noisy productions at the South Bank Big Top, the residents made their voices heard from the outset. The producers of La Soirée took a proactive stance, eliminating some potentially problematic acts from the programme and arranging meetings with the residents to discuss a plan of action. This included recording the noise levels on a daily basis from in front of the apartments onto a computer for reference, so the sound levels could be regularly checked and adjusted as needed.
Production Manager Dan Watkins was pleased with the outcome:
'We needed to maintain and protect the sound quality of the show, which is naturally loud and brash, but needed Davy's input in careful equipment selection and placement to achieve the minimum breakout of noise. It has always been a fine balance, but both we and our neighbours achieved what we all set out to do.'
More: www.orbitalsound.com