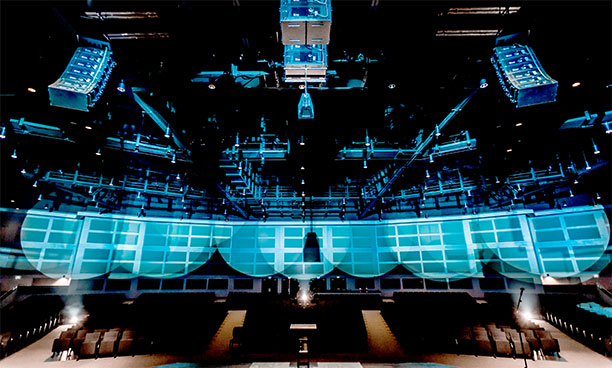 Two churches in Georgia and another in Florida have joined the community of US houses of worship employing Meyer Sound Leo family loudspeaker systems in their ministry.
Christ Place Church in the Atlanta exurb of Flowery Branch has completed construction of a 2,000-seat auditorium with an AVL technology package featuring a Lyon line array.
The installation was handled by Production/co's Dustin Whitt and Production Director Robert Boley form the church. 'Our number one priority is speech intelligibility,' Boley states. 'In our listening sessions we would listen to a variety of worship music, but when it came time to run the pastor's voice through the Meyer Sound system, I was sold immediately.'
The new structure for Christ Place was designed to allow for expansion to 3,500 seats by building out from the rear wall. 'We were originally looking at Meyer Sound's Leopard boxes, but then Dustin Whitt showed us how with Lyon we could simply add a box or two per side, adjust the splay angles, tweak the processing and we would be good to go,' says Boley. 'We won't have to replace the whole PA or hang delays.'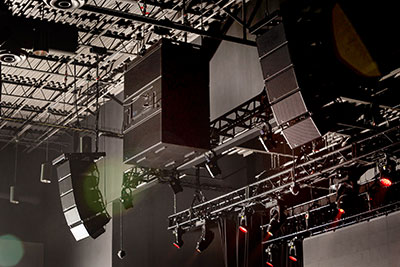 The Christ Place system is built around two arrays of seven-each Lyon line array loudspeakers with four 1100-LFC low frequency control elements for deep bass. Also included are four UPQ-2P fill speakers, two Galaxy 816 processors and RMServer for comprehensive real-time monitoring.
'We do a live stream of our services, and one thing that helps greatly with Meyer is that the system is so transparent that the house mix translates very well into broadcast,' Boley continues. 'That was huge for us, as we saved money on a separate broadcast console, and also I don't always have an A2 or A3 available to do a dedicated broadcast mix.'
Since opening day, the new system has supported a number of the church's own special events as well as guest concerts by Christian guest artists such as Tim Hawkins and Phil Wickham. 'Everybody here from the senior pastor on down is extremely pleased with what they are hearing. They didn't realise how much difference a good loudspeaker system could make,' Boley reports.
Also in the metro Atlanta area, 12Stone Church is transforming its multiple portable campuses into permanent worship auditoriums. Three sites, including the central campus in Lawrenceville, are equipped with Meyer Sound Leopard line array systems, with a fourth Leopard system coming soon to a renovation underway at Hamilton Mill. Two smaller sites are equipped with Meyer Sound point-source systems.
The latest 12Stone Leopard installation – again by Production/Co under the direction of Whitt – is at the new Buford campus. 'Leopard was the perfect choice here because of the room size combined with the consistency of Meyer Sound products and our familiarity with them,' says 12Stone Production Director Taylor Davis. 'Also, as ceiling load capacity is always a limiting factor, we can rely on Leopard's high power-to-weight ratio to deliver exceptional performance with a low ceiling payload.'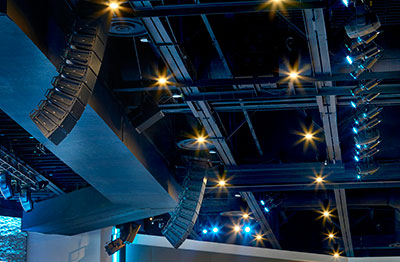 The new system comprises five per side Leopard arrays, two UPJ-1P fill loudspeakers, three 1100-LFC elements in a flown cardioid configuration, one Galaxy 816 processor and an RMServer.
'Leopard's clarity with spoken word along with its ability to provide a full, enveloping mix at relatively low SPL appeals to the wide range of people attending worship here,' Davis says. 'We can provide the high energy environment younger generations are seeking while maintaining a comfortable level everyone can enjoy.'
Further to the southeast, in Naples, Florida, the First Baptist Church has also equipped its remodelled auditorium with Meyer Sound Leopard line array loudspeakers. Here, the AVL upgrade package was designed and installed by Paragon 360 under the guidance of Audio Designer Mark Coble.
The main system is anchored by 18 Leopard line array loudspeakers augmented by three 1100-LFC elements for low frequency support. Fill systems utilize UPQ-2P, UPQ-1P, UPA-1P and UPJ-1P loudspeakers while 24 miniature MM-4XP loudspeakers are deployed throughout the choir seating area as close proximity monitors.
'Sound for us was priority one,' says Executive Pastor John David Edie. 'It was a tough deal to make sure this room could fit everybody's needs. But the system installed by Paragon 360, along with the acoustical treatments put in, has made this one of the best-sounding rooms I've ever been in. We've had travelling concerts by recording artists come in here who brought along their own sound systems. But when they heard our system, they left their own systems out in their trailers.'
More: www.meyersound.com