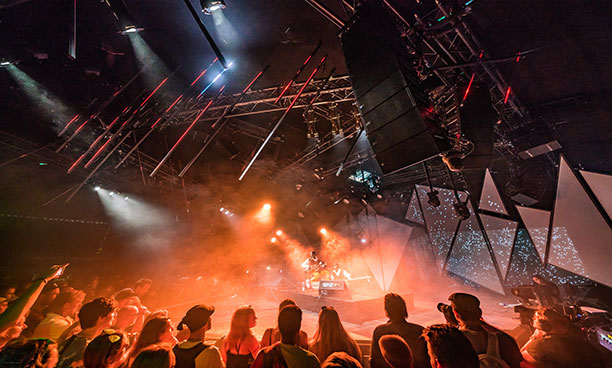 A total of nearly 1,000 loudspeakers will be in use across eight stages at the 2019 Roskilde Festival. This marks the second year of a five-year partnership between Meyer Sound and the festival, with all stages deploying Meyer Sound Leo Family reinforcement systems exclusively.
In addition, Meyer Sound is assisting in training the festival's own technical professionals and also collaborates with festival management and the Danish Technical University on research in audio and acoustics.
Major headliners at the vast Orange stage will again be heard through a system anchored by Leo and Lyon line array loudspeakers. The Arena, Avalon and Apollo stages will be furnished with Lyon line arrays; the Pavilion, Rising and Countdown stages will deploy Leopard line array systems; and the intimate Gloria stage will offer a Lina line array system. Fill and delay systems will include two of Meyer Sound's newest loudspeakers, introduced only this year, the Ultra-X40 and UPQ-D series. Galaxy network platform loudspeaker processors will again implement AVB networking at key stages.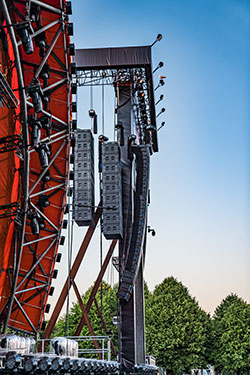 All Meyer Sound systems again will be provided by the Bright Group, a leading supplier of event technologies in Scandinavia: 'We took the overall sound experience to a new level in 2018,' says Artist Production Manager Lars Liliengren. 'Even though we had been doing this for 48 years, with Meyer Sound we learned even more about working with our site and making an even better audience experience. This year we will apply what we learned to bring artists and audiences closer during the shows.'
The partnership between Meyer Sound and the Roskilde Festival extends beyond supplying equipment and technical expertise, also fostering a close-knit community where education and audio/acoustics research are carried out by teams of professionals and student volunteers.
'Last year, we recruited and educated our own staff of freelance sound engineers,' says Roskilde Festival Education Project Manager, Morten Büchert. 'We expanded the mindset of the professionals involved by focusing on the art of sound, personal competencies and knowledge of the Meyer Sound technologies. For 2019 we have again recruited our own staff of 32 professionals, with about 16 per cent of them new. This year, we have five women engineers on our 2019 staff, up from three last year and none in 2017 – or any time before.'
In 2018, working in conjunction with the Danish Technical University, the festival and Meyer Sound carried out groundbreaking research on the effects of weather and atmospherics on broadband sound propagation. This year's research will focus on techniques to further reduce sound spill to adjoining stages and into the wider environment.
More: www.meyersound.com