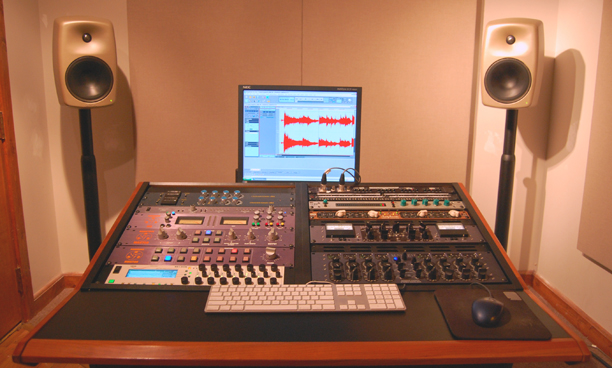 Part of Chicago's successful Gravity Studios complex, Gravity Mastering has updated its equipment with a new critical listening loudspeaker monitoring system.
Following the upgrade, the facility has a Genelec 8250A Bi-Amplified DSP Monitoring System and 7270A Active DSP Subwoofer in its mastering room. 'The sole goal was accuracy,' says McBride, who opened Gravity Studios in Chicago's Wicker Park neighborhood 18 years ago. 'I needed a monitoring system that would allow me to hear the truth, no matter how nasty. I've got a home system whose sonic signature can give me a back rub, but at work I have to have the truth.'
McBride says there are two ways to achieve this– build a mastering control room from the ground up, designed around a specific monitoring system, or find the world's most powerful and advanced DSP to correct for time alignment and for room modes. But building from scratch, especially in a dense urban environment like Chicago, is expensive, and even then anomalies can affect the sound of the room. 'Despite the wide variety of studios and mixes, I nonetheless found myself boosting and cutting certain familiar frequencies on most projects – that was the telltale sign,' he recalls. 'Those were the frequencies where my room was lying to me.'
Investigation of loudspeaker/monitor technology over the course of five years eventually led McBride to Genelec's DSP series instead of an expensive overhaul of the room. 'This DSP has flattened my response to within 0.5 dB from 20Hz to 20kHz, which is amazing,' he says. 'The first album I mastered with the new system was a complete epiphany. I was able to use 60 per cent less EQ and could hear every detail with great clarity. My client, a producer/engineer with his own studio, was so happy he wrote me a long email thanking me, and his comments aligned perfectly with my own impressions. Moreover, from listening in his variety of trusted systems, like the car, on the computer, on his home stereo and his control room, he was hearing exactly what I was hearing on my collection of systems. I have achieved translation. Thank you, Genelec.'
The Genelec 8250A builds on the technology of the 8050A, using a flow optimised reflex port that provides articulated low frequencies without compression, distortion or port noises. Combined with the Genelec Directivity Control Waveguide (DCW) and the rounded edges and gently curved front and sides of the MDE (Minimum Diffraction Enclosure) enclosure, the result is a flat frequency response both on and off axis. Other benefits include superb imaging precision and minimum listening fatigue.
DSP crossover filters with extremely steep roll-off characteristics feed dedicated power amplifiers for each of the drivers. The 8250A features magnetic shielding, overload protection circuitry and versatile room response controls as standard. The Genelec Loudspeaker Manager (GLM) control network and software assist the performance of the 8250A: it features adjustment of levels, distance delays and flexible room response improvement equalisation with the reliable and robust AutoCal automated calibration system via the GLM control network. The 8250A has both analogue and AES digital inputs in combination with a digital thru connection.
Gravity has mastered recordings for projects including the 2008 Van's Warped Tour compilation, hard-rockers Aiden and American Idol Season 9 winner Lee DeWyze. The Genelec 8250A monitors were purchased through pro audio dealer TC Furlong & Associates of Lake Forest, Illinois.