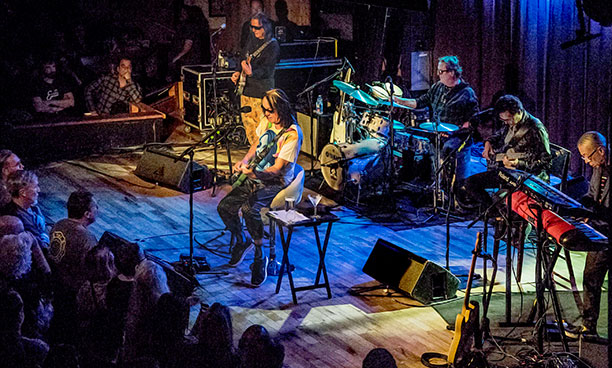 Todd Rundgren continues his status as rock legend as he takes his The Individualist tour across the US and Europe. Inspired by his autobiography, The Individualist: Digressions, Dreams and Dissertations, the tour is a creative exploration of the singer and guitarist's legacy as a boundary-breaking creative force.
In preparation for the tour, Production Manager and monitor engineer, Paul Froula recently upgraded Rundgren's monitoring rig with an all-Vue hm-Class selection that includes four Vue hm-112 single 12-inch systems, as well as a pair of hm-212 dual 12-inch systems. All six wedges are connected to VueDrive V Series Systems Engines, which provide power, processing, and full network connectivity via SystemVue software.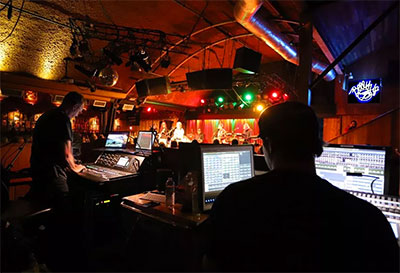 'I was really quite impressed when I first heard the Vue speakers at an InfoComm demo a few years ago,' Froula says. 'In a very crowded field of choices, the Vue speakers really stood out – especially in terms of sound quality and directivity. I immediately started looking for opportunities to give them a try.'
Froula's first venture with Vue was on Rundgren's Utopia reunion tour in the first half of 2018, where he deployed a custom monitoring rig comprised of two al-8 line array elements mounted atop dual al-8 SB subwoofers placed on either side of the stage.
'Todd is a man of few words when it comes to gear, but I could tell he was really satisfied with what he was hearing,' Froula says. 'We also used a pair of h-8 boxes as near fields for George Cowan, Todd's long-time FOH engineer. He was really pleased with the level of clarity of detail.'
With the Vue system having proven itself through the first half of Todd's busy 2018 schedule, Froula decided to give Vue's hm-Class monitors a shot. Benefitting from much of the same technology inside the al-8 line array, including Beryllium high frequency and full compatibility with VueDrive system engines, Froula hoped the hm-Class wedges would deliver similar sonic performance while opening site lines at the far left and right of the stage.
'The second half of the year was billed as An Unpredictable Evening with Todd Rundgren, but the Vue system was anything but,' Froula recounts. 'Todd maintained the only setlist with about 70 numbers to choose from. As a result, we threw absolutely everything at the monitors and often didn't know until the very last minute what they'd be required to deliver. The hm-112 and hm-212 hit the mark every time with no real tweaking. They provided an unmatched level of clarity and consistency, regardless of content, and delighted the band and crew at every performance.'
Rundgren's schedule continues well into 2019, with one-night-only performances and several residencies. Froula confirms that the Vue monitors are a welcome and permanent addition to the line-up.
More: www.vueaudio.com