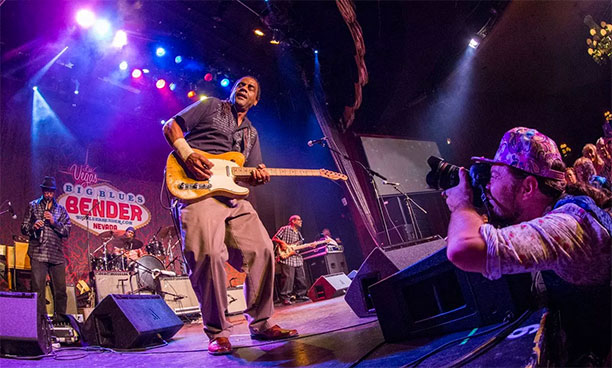 HAS Productions recently deployed Vue PA systems for the four-day Big Blues Bender at the Plaza Hotel & Casino in Downtown Las Vegas for the third successive year. This marks five years for HAS as the exclusive production team behind the event, which hosted artists including Kenny Wayne Shepherd, Tab Benoit, Samantha Fish and The Marcus King Band.
'This is a discerning crowd who travel from all over to hear the best of the best,' says HAS Productions President, Larry Hall. 'As Blues Bender continues to grow in both attendance and talent, expectations for a world-class listening experience also expand. The loudspeakers are a critical part of the success of this production. Their versatility allows us to configure them to meet the requirements at all five stages, while delivering SPL and fidelity beyond their size.'
As in previous years, The Bender Theater, located in the hotel's main ballroom, served as the main stage for the event. Here, HAS used dual Vue al-8 arrays of seven al-8 elements each, and powered by network-enabled, rackmount VueDrive Systems Engines. For low frequency support, a pair of Vue hs-221 infrasonic subwoofers with onboard VueDrive electronics were placed on either side of the stage. The entire configuration was accessible via SystemVue monitoring and control software.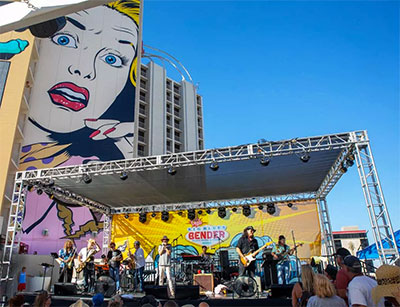 The Pool Stage, located on the hotel's rooftop, played host to 1,000 guests and two-dozen artists with a weekend finale from the legendary Tab Benoit. The Vue al-12 and hs-221 combination once again lounged poolside, with groundstacked, four-element al-12 arrays atop a pair of hs-221 infrasonic subwoofers. VueDrive Systems Engines and onboard VueDrive electronics once again handled system power and processing, while SystemVue software brought it all together.
At the Casino and Juke Joint stages, HAS chose matching configurations based around the Vue al-4 subcompact line array system. Using the optional yoke mount, HAS pole-mounted four al-4 subcompact elements over a single hs-221 sub on either side of the stage. VueDrive Systems Engines once again provided all power and processing.
'The exact same configuration delivered flawlessly in both environments, despite them being very different spaces,' Hall reports. 'At the Casino stage, the al-4 delivered perfect coverage across the casino for more than 500 guests who gathered there until the wee hours of each morning. And at the Juke stage, where the vibe was much more intimate, the al-4's fidelity and detail really shined through. It's an amazingly versatile little line array system.'
Rounding out the event was The Bender Showroom Stage, where the main PA system was Vue comprised of al-8 line arrays paired again with the versatile hs-221 subwoofer.
'Pulling off a show like this – with so many different venues and acts packed into four days – is a real testament to the versatility and consistency that Vue is delivering with their al-Class systems,' Hall reflects. 'Knowing that the system will require minimal to no tweaking with each new act eliminates a log of worry when time is in short supply.'