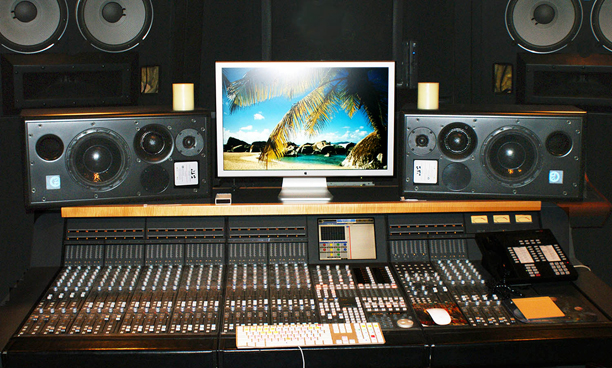 Academy Award nominated American songwriter Diane Warren has penned more than 100 charting songs and has the unique distinction of having seven hits, all performed by different artists, on the charts simultaneously. Supporting her writing, she has a fully-staffed studio under the name of her publishing company, Realsongs. The two control rooms and the listening room in the complex recently received an upgrade to ATC monitors – four pairs in all.
Warren moved into the office building where Realsongs now resides 25 years ago. What started as two rooms expanded as her success grew and other residents moved out. Now Realsongs occupies the entire floor. The two control rooms, with adjoining small live rooms, are dubbed Studio D and Studio W. While vocals represent the vast majority of recordings at Realsongs, chief engineer Mario Luccy also records guitars, bass, keyboards and drums.
Peter Stengaard, a Danish-born producer and engineer now in residence at Realsongs, introduced Luccy and the rest of the staff to the ATC monitors. He ordered a pair of mid-field ATC SCM100ASL monitors for Studio W, where he does most of his work. 'It was immediately apparent that the ATCs were much cleaner and unaffected than the monitors we were using,' says Luccy. 'Mixing on the ATCs is a dream – the detail and separation are astounding. Getting the right sound is faster and easier than it used to be, and now I'm guaranteed that whatever sounds right on the ATCs will translate outside of the studio. Another thing I really like is that I can crank them up for the artist and then turn them down to something more reasonable for mixing without any loss of articulation.'
One pair of close-field ATC SCM25As joined the larger SCM100ASLs in Studio W and another pair of SCM25As went into the listening room. Finally, a pair of mid-field SCM50ASLs went into Studio D. 'Now there is a wonderful consistency at Realsongs,' says Luccy. 'We hear the honest detail of what we're working with no matter where we are in the facility.'
Although Warren leaves the knob twiddling to Luccy and Stengaard, listening is another matter: 'I am very particular about the sound of my monitors, and I have had an opportunity to sample many in the course of my career,' she says. 'The ATC monitors sound great. I really like them.
'I remember we were recently recording the vocals to 'Better Me,' performed by Keyshia Cole,' adds Luccy. 'When she wants to sing, she wants to sing now. Generally, there's not a lot of patience at Realsongs for elaborate setups or trying out different microphones or preamps. With the ATCs, I finally have the right tool to quickly ascertain whether the take is technically where it needs to be. And if it's not, I can quickly zero in on the trouble and make it right.'