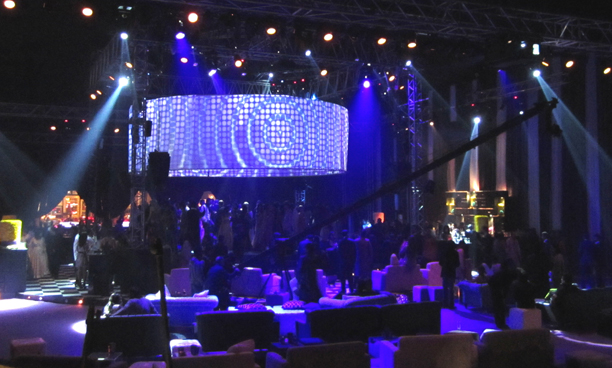 Indian society weddings don't come much biger. With 2,000 guests to celebrate, and Canada's Cirque Eloize acrobatic show plus synchronised animated audio and video, the sound system was given equal prominence.
Commissioned by Arjun Bahl of Most Technical India – the specialist media supplier for the Delhi
Event – sound design was handled by Out Board's Dave Haydon and involved multiple surround zones running parallel 3D surround and dynamic delay-panning effects simultaneously for the performance stage, audience seating and lounge areas, and then later for the dancefloor.
At the heart of the system was a TiMax SoundHub-S for surround-sound control. A separate surround system ran a continuously looping ethereal soundscape generated by TiMax as guests as they passed through a custom-built 25m-long tunnel to attend.
A total of 32 EAW JFL 210 line array cabinets were used (three on each corner of the dancefloor), with two hangs of four as the main arena PA. Further pairs of cabinets served the rear-stage lounge area and four separate surround clusters were hidden in the walls. Eight JBL VerTec subs were distributed around the stage and dancefloor, matrixed independently for the Cirque show and DJ sets. Eight small EAW fill speakers and a pair of compact subs handled the tunnel soundscape.
Systems engineer Samir Kripliani, from Room Tone, managed all playback and mic sources via a DiGiCo SD8 mixing desk, which fed the distributed PA via a TiMax2 SoundHub-S16. The TiMax system also provided system EQ and zone level control for PA, foldback, dancefloor, surrounds and tunnel systems.
Montreal-based Cirque Eloize – part-owned by Cirque Du Soleil – brought in more than 30 performers and crew to stage spectacular aerial acts, along with illusionists contortionists and acrobats. TiMax managed the artists' music and effects playback, adding wide surround images and also performing subtle stereo spinning effects in time with the acrobatics.
Similar sonic moves were employed for the DJ sets, but using separately programmed dynamic panning cues that focused the audio animation onto the dancefloor, with parallel effects being played over the adjacent lounge areas. Dave Haydon worked closely with Immersive's Martin Harvey and Ralph Lambert to synchronise specific audio pan moves with their live-mixed video content and effects being projected on a 9mx3m cylindrical screen suspended over the dancefloor.
The production was not without its hitches, not least a heavy electric storm that dribbled rain water onto the half-finished installation, and caused the work-force to bolt for the doors. Nevertheless the client dubbed the final outcome an 'unprecedented success'.