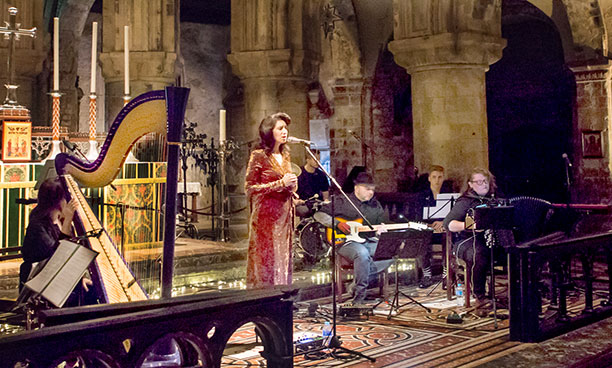 The release of Hazel Iris' first full-length album, Nine Sisters, was no minor online ad campaign or poorly-attended record company press office playback. Instead, the eccentric London-based storytelling singer-songwriter set up in London's historic St Bartholomew-the-Great at Smithfield for an event that was as much more an arts festival as launch gig, with innovative artists from various genres on the bill.
The event was soundly supported by Shure UK, with KSM8, Beta52, SM137, SM81, KSM141, Beta98, SM57s and SM58 microphones and PSM300 in ear monitoring systems all playing a part in the proceedings.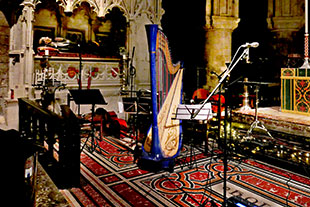 'For the Nine Sisters album launch, we used Shure microphones on every instrument,' reports Peter Junge, the engineer in charge of recording and filming the event. 'Not only was the live sound superb, but the recording also came out really well. Listening back I was very surprised by how focused it all sounds and how little issue with bleed or ambience we have on the signals.'
Often difficult venues in terms of sound, Junge found the selection of mics important: 'Very often, when using that many condenser microphones in a church, there can be a problem,' he says. 'However, the sound is nicely separated and I'm pleased I'll be able to make a studio quality mix from it – my favourite microphones on the evening were the KSM8 on lead vocals which provided a super clear sound, the Beta 181 on drum overheads that captured the entire drum kit nicely and the Beta 98s on snare/tom, which got all the details I want for this kind of music. They all sound fantastic.'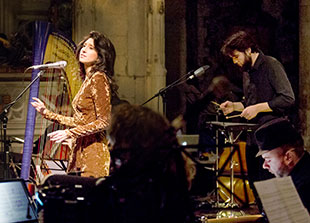 'For the industry to thrive, it's imperative that we support truly unique talent,' says Shure Pro Audio Senior Marketing Specialist Marc Henshall, explaining Shure's willingness to be involved.
'Shure has a proud history of supporting great music over many decades, and when Hazel approached us with the ambitious concept for her next album launch, it was clear this was an event we wanted to support.
'Far from a standard album launch, Hazel has worked hard to bring in broader creative aspects, including theatrical elements. We're a huge advocate of theatre at Shure, and we recognise the importance of this sector in what it brings to the UK creative industries, both culturally and fiscally. Hazel's work in bringing popular music closer to theatre and classical music is refreshing and exciting.'
More: www.shure.co.uk