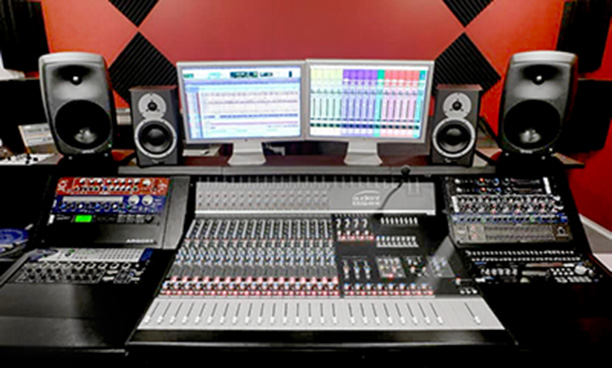 New Zealand's Waikato Institute of Technology (Wintec) has completed a series of studio upgrades with the installation of an Audient ASP4816 mixing console in Studio A, bringing analogue back after a 13-year hiatus.
Music Technician Brad Morgan explains that the original studio centred on an analogue console: 'Its age and maintenance downtime was becoming an issue and in 2003/2004 the decision was made to go to Pro Tools HD with a Control 24. The workflow was simple and an in-the-box solution was convenient for staff and students. 'Fast forward 13 years, and the decision to create a hybrid system uning both analogue and digital workflows was welcomed with open arms. External gates/dynamics and effects racks that had been in storage for many years would now be reinstated.
'Students had experienced some level of tactile control with the previous system, but I knew that this system and workflow would not only sound better, but also be of great benefit to their learning – signal flow, busing, external inserts, I/O routing from DAW, patchbay usage, analogue mixing as opposed to in-the-box,' he continues.
Having guest lectured on a couple of lessons to get everybody up and running, Morgan is happy to report that 25-to-30 students have already learnt the system since its install and that feedback has been 'really positive. Like any piece of equipment, you have to spend time learning it correctly in order to get the most out of it. After a baptism of fire and encouraging some quality 'alone' time, our staff and students are away laughing,' he confirms.
Morgan goes on to list the features of the desk he's most enjoying. 'Clean microphone preamps, musical EQ, bus compression and its routing possibilities, which are really impressive for a console of this size, footprint and price. What stood out to me were its routing possibilities. I was looking for something that could be incorporated into the current patchbay system without having to completely rewire it. Our previous console was housed in an Argosy 90 Series desk. The dimensions of the ASP4816 were similar to a Control 24 and after some planning and modifications to the desk, was sure I could make it fit.'
He describes Wintec's Bachelor of Media Arts (Commercial Music) as 'an exciting and innovative programme'. There are a variety of courses which use the ASP4816 itself including Audio Post Production, Sound Design as well as Post-Graduate Projects and all music students have 24-hour access to six recording studios, including three fully equipped Pro Tools HD Systems and 30 digital audio workstations. 'The studios are always full of students.
'We are in the processes of transitioning to a new Bachelor of Music and Performing Arts qualification with endorsements in Audio Production, Composition, Performance and Theatre,' Brad concludes. 'More information isn't available at this time, but the future of Music and Performing Arts at Wintec is alive and marvellous. Exciting times ahead.'