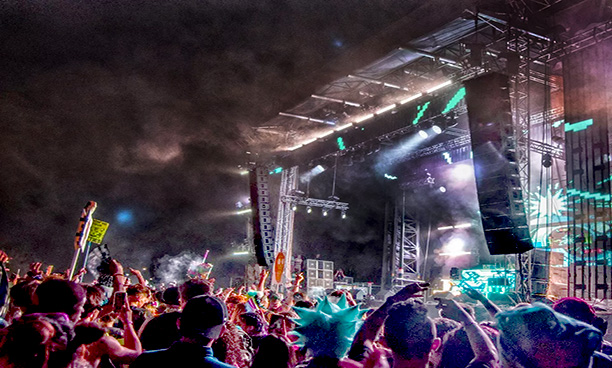 The annual Gold Rush Music Festival marked another successful year last weekend with a no-holds-barred hootenanny at the Rawhide Western Town Events Complex in Chandler, Arizona, just a few miles southwest of Phoenix. With the wild-west style vibe of the venue as its backdrop, the weekend-long dance music and hip-hop mash-up was a high energy, and occasionally dusty outdoor dance party featuring more than 50 artists across four stages, including headliners Deadmau5 and Steve Aoki.
Sound Image Phoenix provided PA and full production service at Gold Rush's main stage. 'With this type of music, it's all about the bass,' says Production Manager, Chris White. 'There's a lot of energy below 50Hz and it's important to keep it tight and impactful across the entire dance area without falling apart six hours in.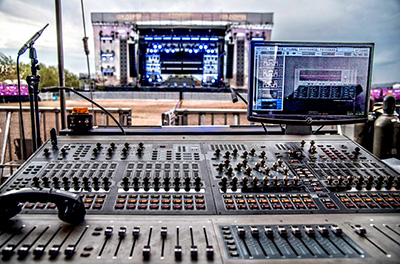 'High frequency is also really important- both in terms of volume and clarity. Delivering at these levels while keeping that energy going along with the bass well into the early morning hours is essential to pulling off an all-nighter EDM festival.'
The Sound Image Phoenix team used all Vue PA, comprising LR al-12 line arrays of 14 elements each. Four stacks of two medium format al-8 elements were positioned in front of the stage atop the subs for front fill. Rack-mount VueDrive V3 Series Systems Engines providing all power and processing for the arrays.
For LF, 28 Vue hs-221 ACM subwoofers were set in 14 stacks of two across the front of the main stage. Using the SystemVue software, the subwoofer's onboard VueDrive electronics were programmed to delay output by a few milliseconds from the centre subs outwards. The delayed arc configuration ensured ideal coverage and maximum impact as the crowd expanded from hundreds to thousands throughout the early morning hours.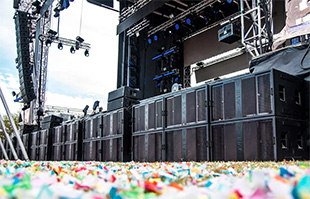 Mixing was handled by a Venue Venue Profile at FOH and DiGiCo SD9 covering monitors. 'Between the six-digit ambient temperatures and SPL requirements, these are brutal conditions for any PA,' White says. 'The Vue system just kept going with no degradation in sound quality at all. Even after more than eight hours of continuous play at some pretty crazy volumes, the subs were hitting just as hard as they were in the first hour. In fact, I'm pretty sure I could have pulled even more out of them if I'd needed it. Amazing.'
According to Stage Manager Josh Mierly, who recently completed Kendrick Lamar's Damn! tour – which also featured the al-12 –the Vue line arrays have definitely made an impression. 'I don't generally comment on PA systems. I've heard them all and then some. But the al-12 really stands out in terms of sound quality and ease of use. Their reputation is clearly well deserved and I predict we'll see Vue rigs like this popping up on many more tours in the very near future.'
With a growing fan base and an undeniable roster of who's who in hip-hop and EDM, Gold Rush is anticpating a record-breaking event next year, with Sound Image Phoenix primed to continue in its support.
More: www.vueaudio.com