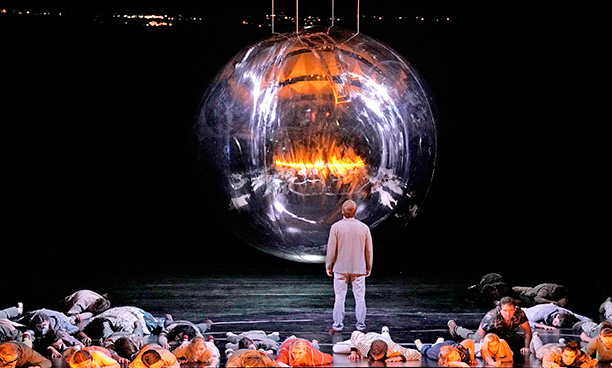 Dr Atomic, a 2005 contemporary opera by composer John Adams and librettist Peter Sellars, explores the inner turmoil of Dr Robert Oppenheimer as he headed development of the first atomic bomb at Los Alamos Laboratories. Staged by the Santa Fe Opera's Crosby Theatre – barely 20 miles from where the first detonation took place – a summer production by the Santa Fe Opera created a three-dimensional soundscape, balancing natural-sounding singing with full orchestration and evocative sound effects.
For the sound design, Mark Grey specified an augmented Meyer Sound loudspeaker system based around four Cal column array loudspeakers that had been recently installed at the theatre.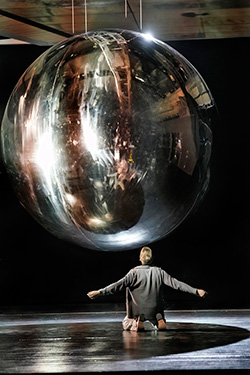 Sound design and system configuration in the semi-open-air Crosby Theatre entailed multiple challenges. Both Adams and Sellars (also directing) preferred a singing style that was subtle and intimate, contrasting with the more forceful projection of classic opera. That demanded amplification in the 2,100-seat venue, but at the same time, opera management was reluctant to impinge on the sleek architecture with large line arrays while potentially arousing misgivings among traditional opera purists.
Further complicating matters was the theatre's roof, which was intentionally designed as a reflective surface to bolster unamplified productions. The solution, for both Dr Atomic and similar future productions, was a permanent installation of Meyer Sound Cal 64 and Cal 32 column array loudspeakers, one of each per side.
'The Meyer Sound Cal loudspeakers appealed to us because they uniquely offered superior sound quality in a low profile,' says Karl Kern, Audiovisual Director for the Santa Fe Opera. 'We could benefit from the advanced digital beam steering without having a large line array hanging in our space. Beam steering enabled us to create zones in the theatre to have evenly focused sound energy throughout the audience without having high overall SPL.'
According to Grey, the loudspeakers proved to be an indispensable component in advancing Adams' and Sellars' redefinition of the opera experience for 21st century audiences: 'Over the 30 years I've been working with John and Peter, we've formed a tight bond regarding what the presentation will be like on stage. It's an interesting scenario because of the expectations of audiences when they come to live opera. It's not like watching a film. It's more three-dimensional. You're using the dimensions of the stage, you're using space and time, all of these things. So with sound design it means ultimately to create, transparently, the sound world of the composer's intention.'
One unique problem confronting the sound team at Santa Fe was the open-air theatre, which has a reflective roof but no sidewalls for placement of surround loudspeakers for the ambient effects of the sound design. 'We worked closely with Meyer Sound's design services to come up with a solution that would provide the power and accuracy but still be unobtrusive and they came up with the ideal solution,' says Karl Kern. 'We mounted two UPJ-1P loudspeakers on the truss towers, set on the patios to each side, and they worked perfectly.'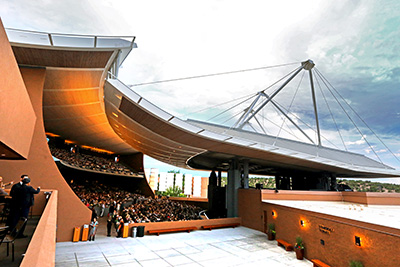 In addition to the four Cal digital beam steering loudspeakers, the new permanent Meyer Sound system at Santa Fe Opera includes two 900-LFC low frequency control elements, six UP-4XP compact loudspeakers for front fill, a UPJ-1XP centre fill loudspeaker and a Galaxy 816 network platform for loudspeaker processing. For the special requirements of Dr Atomic, Grey also specified the four UPJ-1P side surrounds, four of the new UP-4slim loudspeakers as rear surrounds, and six M1D loudspeakers as supplementary front fill loudspeakers.
Despite the unusual demands of the production and challenges presented by the venue, Kern says the system design, configuration and installation was trouble-free: 'Throughout the process, we found that Meyer Sound provides excellent customer service,' he says. 'The process of working with them from initial loudspeaker demos through final installation has been seamless.'
For capturing voices on stage for Dr Atomic, Kern relied on a 30-channel Lectrosonics Digital Hybrid wireless system equipped with DPA d:screet 4061 omnidirectional miniature microphones.
More: www.meyersound.com